This month of May, we celebrate Asian Pacific Islander Heritage month and you are invited!
The sim opens at 8amSLT this morning. This year the theme will have a unique take on the floating markets of South East Asia, with a host of boats that have been decorated and curated to their perspective countries.
I've included a sneak peek (yes that is straight from my desktop sorrynotsorry) of the region (exclusively here for the next 5 hours anyway). The extra special pier is a custom build for the festival by Ella Aurelia of Elm and gorgeous landscaping by Dylan (Trouble Dethly) himself.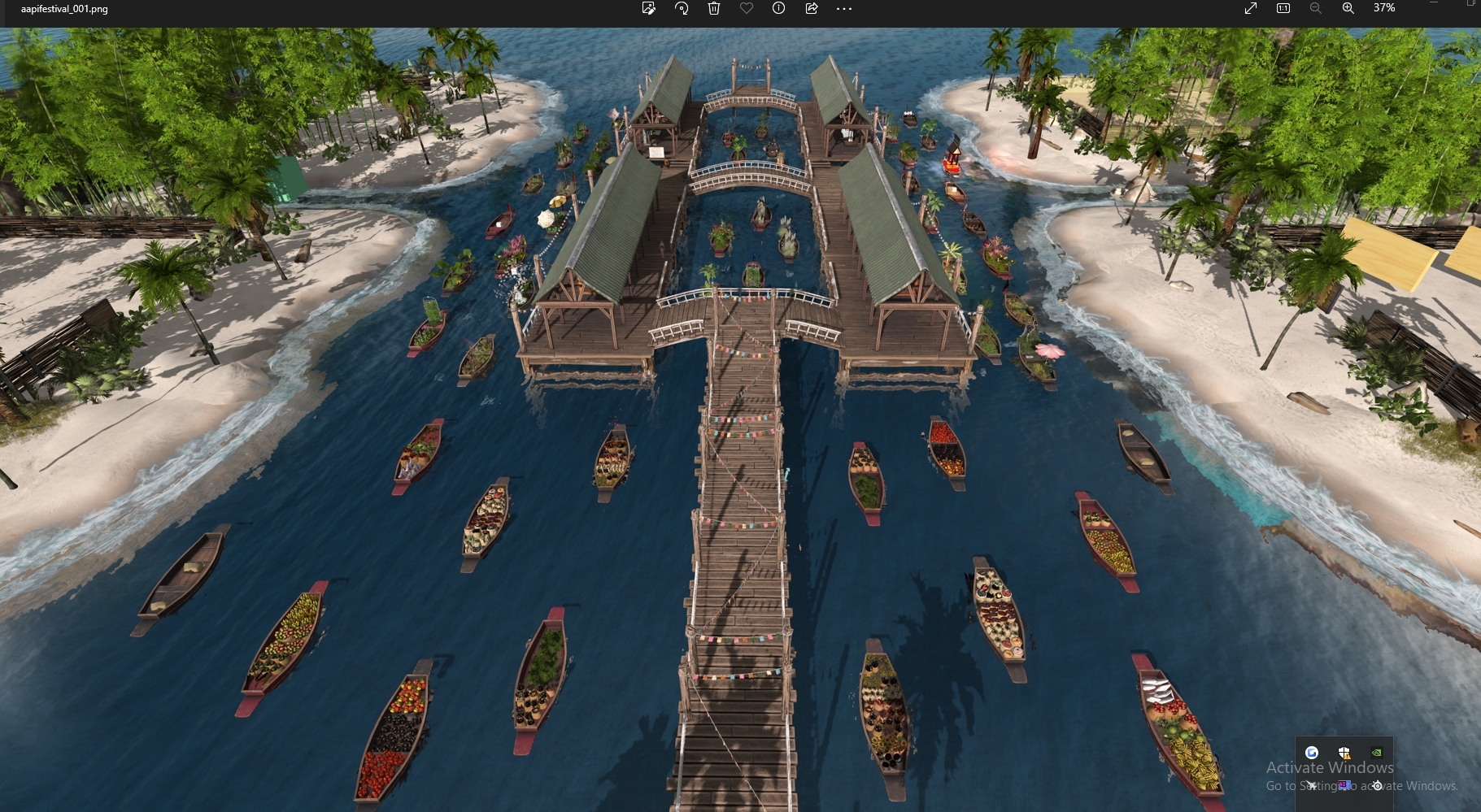 I'm including the entire month's schedule (so far) in this post. The vendor market will be open at sim opening, but the Opening party will start at 3pmSLT featuring music from DJ Fang.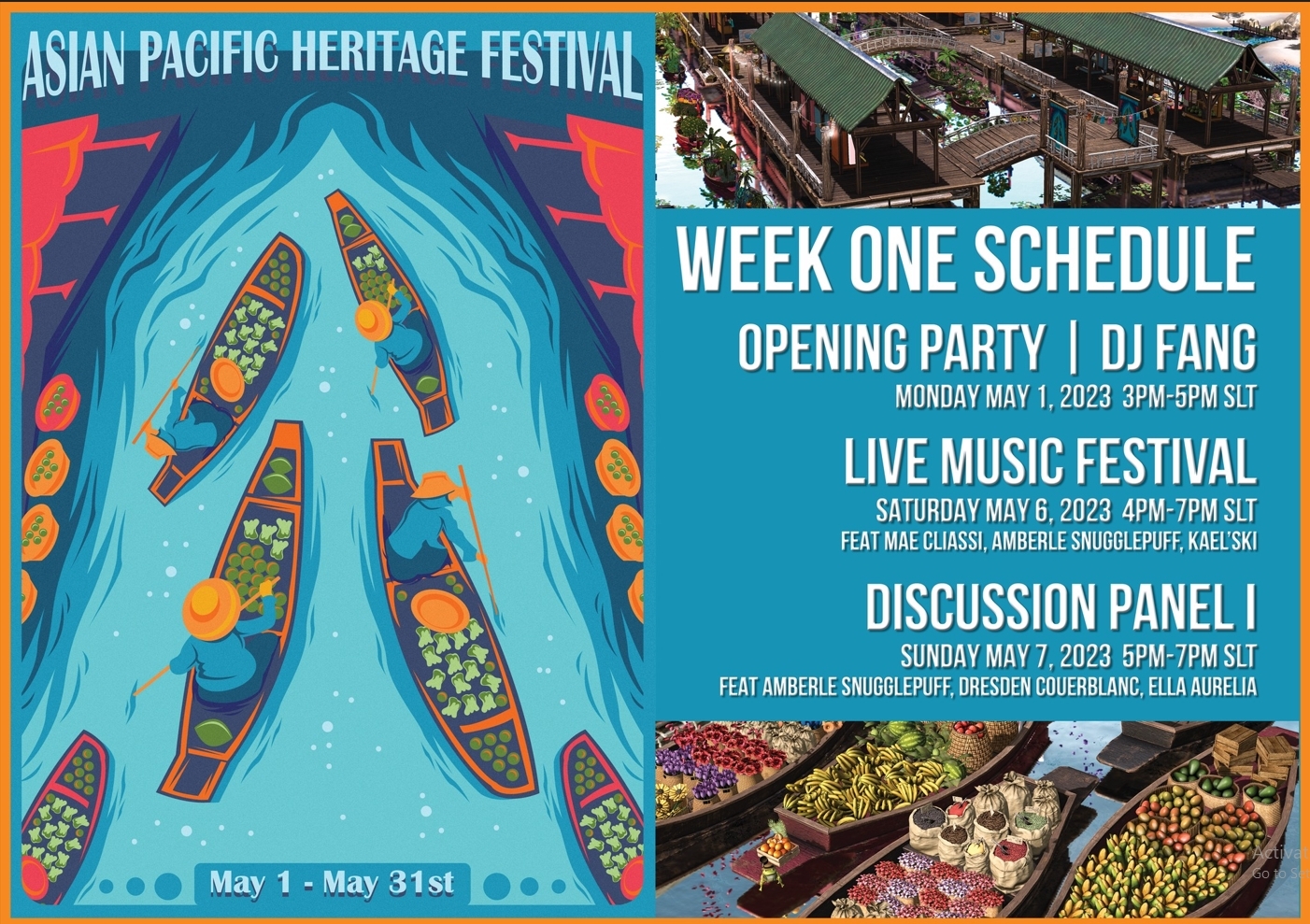 The Asian Pacific Heritage Festival is a celebration of Asians and Pacific Islanders in Second Life. In the month of May, we come together for this vibrant festival to celebrate and share our vast culture, diversity and history with the entire Second Life community through photography exhibitions, traditional foods, an open market, the parade of countries, discussion panels and more.
Open Air Market:
Be sure to visit our open market where designers have created a new exclusive item, plus a free gift for visitors. Our featured designers are: Aardvark, AikaTea, BALACLAVA!!, CHAI, DAUNTLESS, Elm, Fuayu, IMPSTR, Kiyori, Littlep, Mamere, Sari-Sari, So Silly Interactives and UZME Poses.
The Parade of Countries:
The floating markets found in Southeast Asian countries served as our inspiration for this year's festival build. For the parade, over forty boats were decorated to represent many of the countries found in Asia and the Pacific. Be sure to click each countries name to learn more.
Street Food Fair:
Explore the sim and stumble upon on the Street Food Fair, where different cuisine can be found. Click the signage by each to learn more about the food, as well as a real life recipe to replicate!
Scheduled Events:
Opening Party | Monday May 1, 2023 3PM-5PM SLT
With DJ Fang (Greatfang Novo)
-Live Music Festival | Saturday May 6, 2023 4PM-7PM SLT
With Mae Cliassi, Amberle Snugglepuff and Kaelorico
-Discussion Panel 1 | Sunday May 7, 2023 5PM-7PM SLT
With Dresden Couerblanc, Amberle Snugglepuff & Ella Aurelia
Topic: "Fostering Cross-Cultural Understanding and Addressing Identity in Virtual Spaces: Asian Perspectives in Second Life and Beyond"
-Discussion Panel 2 | Tuesday May 9, 2023 5PM-7PM SLT
With Dresden Couerblanc & Trouble Dethly
Topic: "Exploring Asian Identity, Representation, and Communities in Virtual Worlds: Second Life and Beyond"
-Discussion Panel 3 | Monday May 15, 2023 5PM-7PM SLT
With Dresden Couerblanc, Fiona Few & Wendz Tempest
Topic: "Navigating Asian Identity in a Multicultural Society in the Digital Age: Challenges and Experiences "
-Bollywood Party | Saturday May 20, 2023 4PM-6PM SLT
With DJ Max (Cosmic Banana)
-Discussion Panel 4 | Sunday May 21, 2023 12PM-2PM SLT
With Maya Takeda & Fiona Fei
Topic: "Virtual Reality and Asian Cultural Expression: Innovation, Preservation, and Authenticity"
-Live Music Festival 2 | Friday May 26, 2023 3PM-7PM SLT
With Sessionistas, Maximillion Kleene, Poul MacDave & Wendz Tempest
-Discussion Panel 5 | Saturday May 27, 2023 3PM-5PM SLT
With Ella Aurelia & Dash Lionsheart
Topic: "Challenges and Opportunities for Asian Creators in Second Life: Art, Design, and Innovation"
IMPRSTR – Pinoy Food Cart
IMPSTR – Pungko – Chair and Table (GIFT)
BALACLAVA!! Takao Notice Board
BALACLAVA!! Takao Signboard
BALACLAVA!! Takao Pathway Light (mossy) (GIFT)
Aardvark : Knitted Tarsier "Nico" – Grey
Mamere Rokuzaemon(Green tea) Vending Machine (GIFT)
CHAI. Asian Heritage (GIFT) (Peking Only) 2023
Sari-Sari – Buko Juice on a Plate
---
The rest of the scene is from a previous blogpost not listed in the website so please feel free to IM me in world (Wendz Tempest) if you have any questions!