The fun has begun, and the countdown to a merry yuletide is on its way!
Put on your comfy shoes and your airport fit.. I mean teleport-shopping fit? We have a lot of stops on the way to making your room saaannggg!
I think my favorite piece from today's scene would have to be the Snowman Wine holder from Your Dreams which you can find at Arcade this month. It's just the thing!
I also set up shop in Trompe Loeil's latest release for Uber, so do check out the entirety of the build's demo. Finca also has released a garland collection in 4 colors at Cosmo as well as a few Christmas decor at their main store.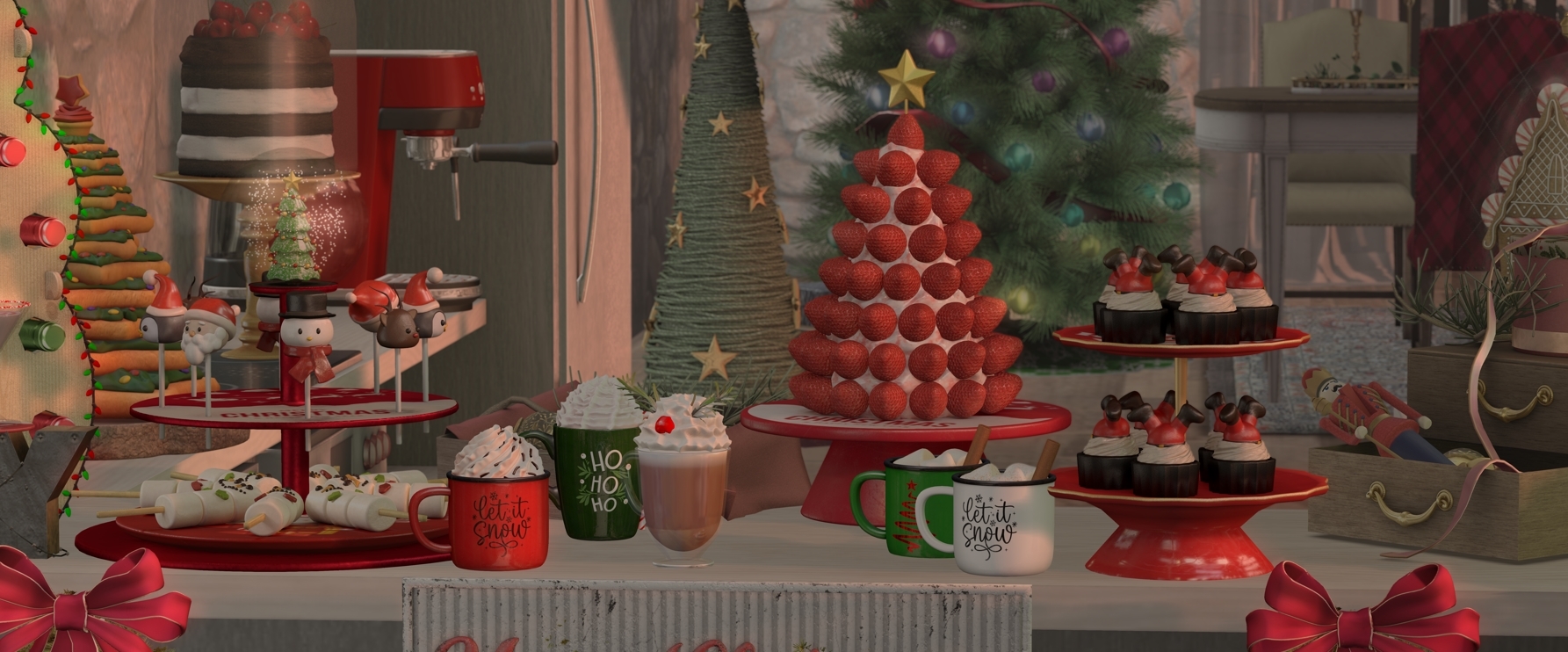 Do peruse the credits for the rest of the infos… I'm a ping away if you need a shopping buddy!
---
@Arcade Dec. 2022
22769 – Candle Plate Bronze
22769 – Jingle Bell Bronze
22769 – Joy – Bronze
Chic Chica Hot Chocolate Collection
Carpe Noctem x Mamere : Santa Claus cupcake dispenser
Carpe Noctem x Mamere : Christmas Lolipop Cakes
Carpe Noctem x Mamere : Snowman marshmallow dispenser
Carpe Noctem x Mamere : Peppermint Martini dispenser
@Cosmo till Dec. 10th
FINCA – Green Curved garland S lighted
FINCA – Green Straight garland L lighted
FINCA – Garland ribbon white
FINCA – Garland ribbon red/gold
@Finca Mainstore
FINCA – Nutcracker Unpacked
FINCA – Nutcracker Ornaments Unpacked
@Farmer's Market
DISORDERLY. / Rustic Winter / Tree Line Set
Serenity Style– Vintage Christmas Potted Tree
{YD} Wine holder snowman – Red and green mixed colors lid
@Tannenbaum
Pitaya – Christmas Sign – Circle
Pitaya – Christmas Sign – Merry
BROKEN ARROWS – Candy Christmas – Candies – Red & Green
BROKEN ARROWS – Candy Christmas – Candies – Red
BROKEN ARROWS – Candy Christmas – Gingerbread House – Red
BROKEN ARROWS – Candy Christmas – Candy Cane – Red & Green
BROKEN ARROWS – Candy Christmas – Macarons – Red
@Uber
Trompe Loeil – Cilje Modern Ranch
---
DISORDERLY. / A Very Cherry Xmas / Cherry Cake / RARE
[ kunst ] & KraftWork – Candle house (b)
[ kunst ] & KraftWork – Candle house (b)
Consignment[Con.] City Bar cart –
{YD} Steamin' Mugs – Coffee Bar Espresso Machine
Fancy Decor + KraftWork Fete d'hiver: Persian Rug
Fancy Decor + KraftWork Fete d'hiver: Tartan Chair
Fancy Decor + KraftWork Fete d'hiver: Centerpiece
Dahlia & KraftWork . Jora Collection . Wooden Chandelier
Dahlia & KraftWork . Jora Collection . Dining Table
JIAN Christmas Tree 2017 Decorated
driftwood. Partition Pack 2: A – Mid. Dark Brown.
Soy. Art Milk Glassware – Basket
[PM]Pixel Mode – Long Drape
[Harshlands] Fir Tree (Snowy)
{YD}Thread christmas tree – Red thread
{YD}Thread christmas tree – Gold thread
{YD}Thread christmas tree – Green thread