Let's make a door, it's in your heart. Open the door and this place will wait…
We're starting the new year with a warmer and sweeter palette! FINCA is participating in SL Home Decor for this weekend and has their Wooden cart up for sale! Its a nice change from winter furnishings. And you can never go wrong with doughnuts and ice cream, I mean really…
The wooden cart itself is modifiable with a logo texture menu change on click, as well as the balloons & chalkboard which come with extra texture options. The ice cream set and donut set are sold separately. The menu is also clickable and will give you a wearable ice cream cone or fancy shmancy doughnut! Hurrah!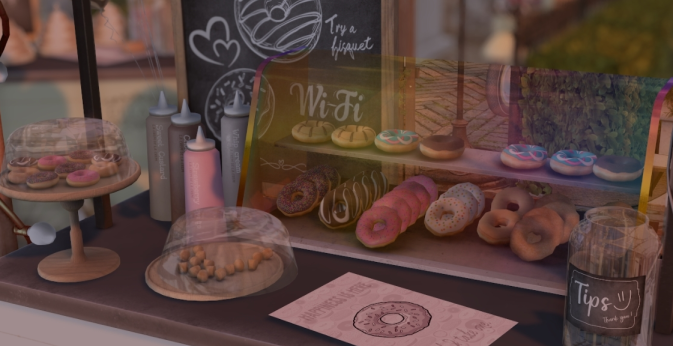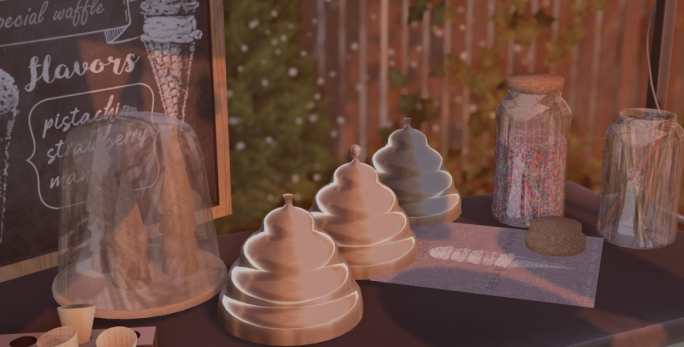 Simply scrumptious and its starting to show, on my chipmunk cheekies that is! Do stop by FINCA's main store to get  your own cart of goodies and have a sumptuous sweet start to your new year!
---
SL Home Decor Weekend Sale @ FINCA 12/31-1/3
FINCA Wooden food cart
FINCA Donut Set
FINCA Ice Cream Set
*Bonus Wearable donut or ice cream plushie!
Other Goods-
Dahlia – Clarina – Cafe Chair
Dahlia – Clarina – Cafe Table
O.M.E.N – Mischievous Kittens – Icecream Kitty
O.M.E.N – Summer Vespa – Yellow
O.M.E.N – Dog Park Day – 6 – Cassette Player 1
floorplan. potted string light A terracotta/gold
[ keke ] rosehips in pitcher
[ keke ] rainfall glitter broad
[ keke ] star string
[ keke ] little diva draver . white
[ keke ] moths to a flame – white
+Half-Deer+ Stringlight Clutter – Loose Coil
Kalopsia – Welcome Mat – Birds
AF Urne de Terra Cuite
Apple Fall Books – Arrangement 9
Apple Fall Victorian Chimney Planter
Apple Fall Juniper Topiary
Apple Fall Bay Leaf Topiary, 3-Tier
Apple Fall Square Wood Planter
Apple Fall Blossom Wreath
Apple Fall Trimmed Box Hedge
Apple Fall Bushmead Railing Post (Black)
Apple Fall Bushmead Railing Wide (Black)
Apple Fall Cranfield Fence, Tall and Wide
Apple Fall Kent Wall Set
Apple Fall Whitehall Pathway
Apple Fall Summer Parasol
Apple Fall: Portobello Corner Store
Apple Fall: Chelsea Townhouse
5. Apple Fall Twinkling Birch
Apple Fall Yorkshire Bench