After pages of living and dining room inspo, I thought it was high time to share a beautiful bedroom vignette just in time for another sleeps!
FINCA's Aspen Bedroom set is still available at Shiny Shabby till the 15th, so do stop by to check it out.  The Aspen set includes a bed and dresser combo. The fatpack HUD has loads of texture options to play with as well! They have also released a new group gift. If you're a fan of wreaths, this will be your lucky join!
I have been on a natural ish outdoorsy bring indoorsy kind of vibe this holiday season. I love sparkly baubles and tinsel but every other Christmas I tend to tone it way down just to refresh. Living in Seattle, surrounded by evergreens and mountains, it kind of rubs off on me, the whole natural vibe. I would love to see more of this sort of theme from creators and from what I have found since returning is so promising!
I won't call my style Hygge just yet, maybe its that and some eclectic, and some just plain ole clutter chaos. There I said it so you don't have to.
Anywhosers, here are more closer uppers!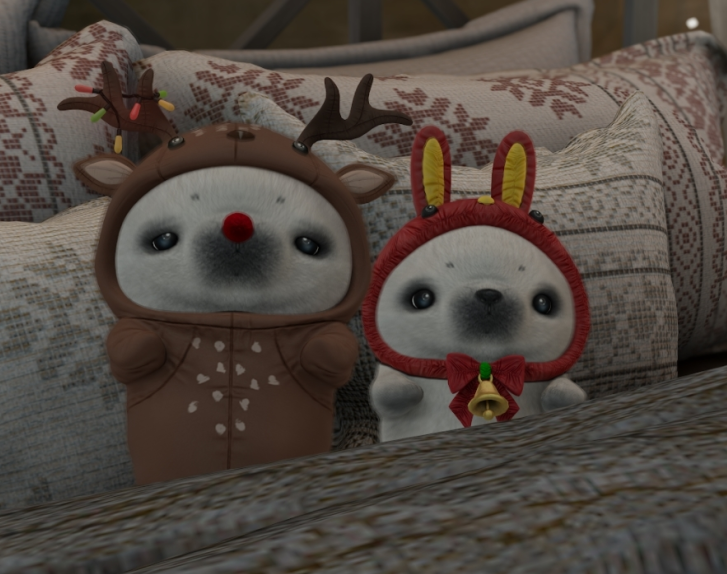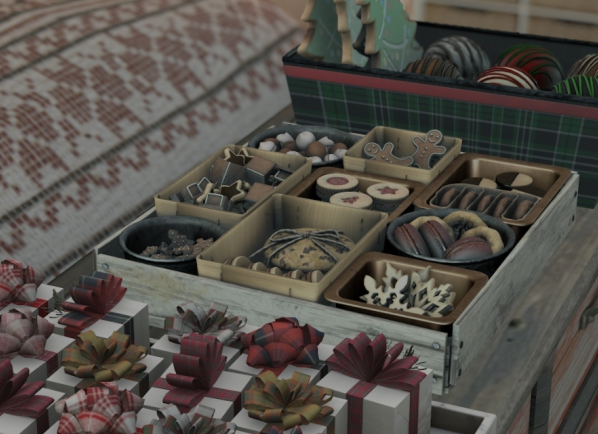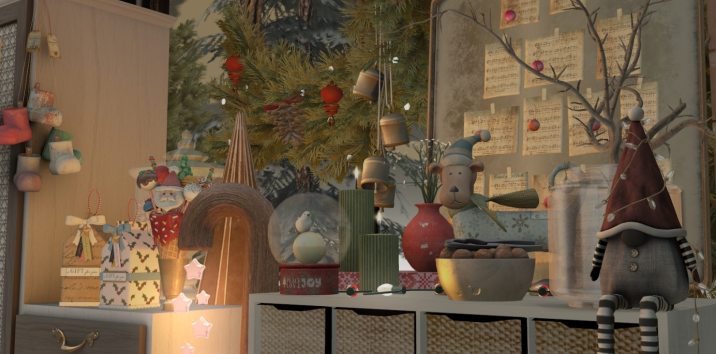 The seals from Yokai are absolutely adorbs, and you can get them at this round of Arcade.
Thank you fellow traveler of the blogdom for stopping by tonight! May you stay Cozey always 💜
---
@Shiny Shabby
FINCA Aspen bed
FINCA Aspen dresser Master set
@SL Home Decor Weekend Sale 12.4-5
FINCA Natural wreath – green
FINCA Bronze hanging bells – brown leather
FINCA Bronze hanging bells – for wreath
@ Snowdrops Winter Market
Dahlia – DIY – Gift Boxing Ornament – Fun
Dahlia – DIY – Gift Boxing Ornament – Holly
@FaMESHed
MADRAS SantaCream Decor B
@Liaison Collaborative
Soul2Soul. Rustic Chic Mason Jar Twigs Lrg
Soul2Soul. Rustic Chic Basket w/Magazines
Soul2Soul. Rustic Chic Book Pile
@Arcade December 2021
4.YOKAI – Seal Xmas – Bunny Seal (red)
9.YOKAI – Seal Xmas – Deer Seal
5-Serenity Style- Snowman Time – Blue Dog
12-Serenity Style- Snowman Time – Snowglobe
2. Myrrine – Christmas selection sheets tree
[IK] Chocolate Christmas – Chocolate Gift Box
[IK] Chocolate Christmas – Cookies Box
Howl – 1.candy cane lamp A
Raindale – Sweetlight wooden snowflake (light)
Raindale – Sweetlight snowflake (gold)
15. Architect. RFC Red Ornament
Other Goods-
KraftWork Home Basics . Soho Table Lamp Christmas Edition
KraftWork Home Basics . Shoreditch Christmas Edition Rug
KraftWork Christmas Candles . Candle Clutter Green
KraftWork Cashmere Collection . Side Table
KraftWork Rustic Winter . Antique Bronze ChristmasTree
KraftWork Magnolia . Nuts Bowl
KraftWork Palazzo Mini Room
Dahlia – Seasonal Candy Set – Peppermints Candy Jar 1LI
Dahlia – Reese – Mirror – Copper
FINCA – red elf sitting
FINCA Bird Mirror Drawer Set (drawer)
FINCA – Christmas tree green / no lights
Cheeky Pea :CP: Pinecone Hanging Garland
[ keke ] rain fall glitter
[ keke ] sticks w lights
11 Fancy Decor + KraftWork Fete d'hiver: Mini Gift Tray
{YD} Rustic christmas tree – Pine cone red bow
15 [[RH]] HOLIDAY CAFE- Wood Chest
17 [[RH]] HOLIDAY CAFE-Shoes ornament
hive // christmas lights kit . messy few
hive // santa's nice list v2
Bygone Garland Pepper & Pomegranate 1m Straight
(Fundati) Dead Tree II -snow-