What wonders lie await, beyond the puppy gate!
Yes that is my shadow in the bottom left corner fellow observers. I needed these gentlemen's attention, right?
WOW so, it has been 3 very long years since we here at Cozey have featured the Arcade 'no longer gacha' Events! That is a stretch and a reach even! So I am pretty excited to share a plethora of goodies including these distinguished gentlemen. Gentle pups… gentle hah.
I've also covered an entire tree full of FINCA's one of a kind ornament series with watercolor works by a RL artist, so do check out the credits for details. If you'd ask me a week ago if I knew I'd be decorating virtual Christmas trees and yes a different one almost everyday… I'd laugh and buy you a drink.
Yet here we are. I do enjoy it I promise. As long as there is good music, and a decent cold brew, Cozey can! Peek below this line so you can see up closers and get your Arcade on! 💜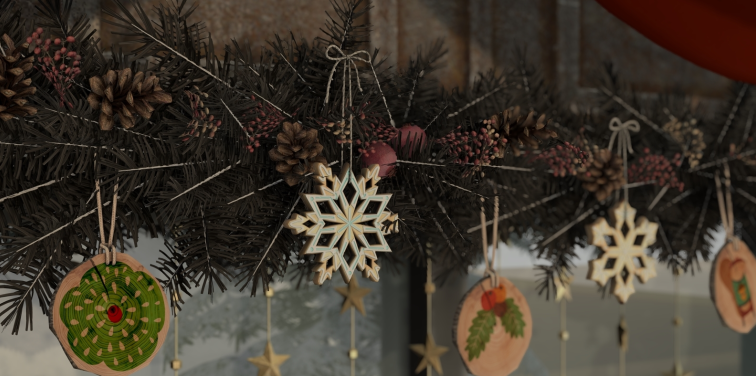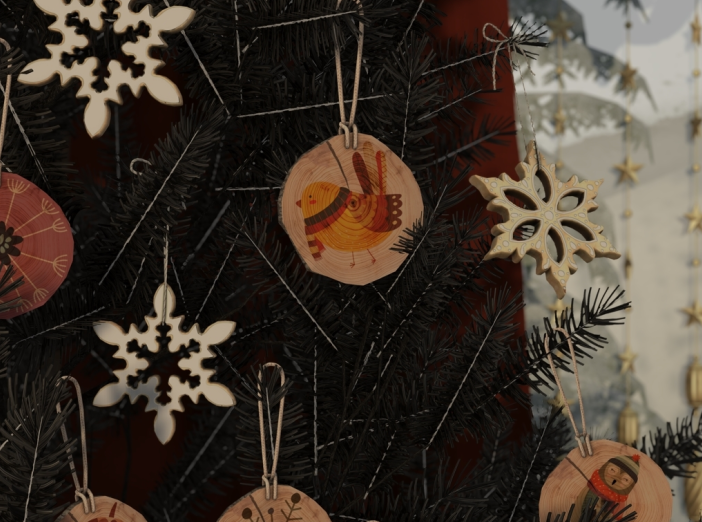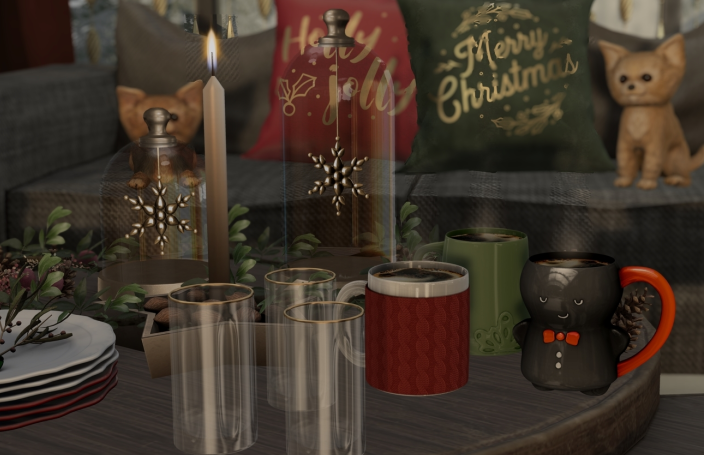 ---
@Arcade December 2021
1. 22769 – Cozy Couch – COMMON
2. 22769 – Cozy Ottoman – COMMON
3. 22769 – Mountain Rug – COMMON
4. 22769 – Sideboard – COMMON
5. 22769 – Pottery Trees – COMMON
6. 22769 – Coffee Table – COMMON
7. 22769 – Yule Log – COMMON
8. 22769 – Cabinet – COMMON
9. 22769 – Hohoho-Decor – COMMON
10 . 22769 – Chocolate Muffins – COMMON
11. 22769 – Christmas Coffee – COMMON
12. 22769 – Sneaker – COMMON
13. 22769 – Refurbished Barnhouse – RARE (just a wee bit modified)
[IK] Chocolate Christmas – Snowflake Cookie #1
[IK] Chocolate Christmas – Snowflake Cookie #2
[IK] Chocolate Christmas – Snowflake Cookie #3
[IK] Chocolate Christmas – Snowflake Cookie #4
[IK] Chocolate Christmas – Garland
1. Architect. RFC Fireplace RARE
4. Architect. RFC Candle with walnuts 1LI
6. Architect. RFC Red Candlestick (bronze) 1LI
9. Architect. RFC Cloche (short) 1LI
10. Architect. RFC Cloche (tall) 1LI
12. Architect. RFC Panettone (Simple) 1LI
Raindale – Sweetlight tree
Raindale – Sweetlight wooden snowflake (light)
[Fetch] Sweater Mug – Solid Colors
[Fetch] Gingy Mug – Black
[Fetch] Lace Mug – Green
5 crate As Winter Calls Set – Blanket Bin
LEMME…Shine like a star
*HEXtraordinary* Terrier Tot – Yorkshire
*HEXtraordinary* Holiday Troublemaker
*HEXtraordinary* Terrier Tot – Gold
@Uber
Fancy Decor: Merry Christmas Throw Pillow
Fancy Decor: Holly Jolly Throw Pillow
Other goodies-
*[ kunst ] & KraftWork – Candle house (c)
*[ kunst ] & KraftWork – Candle house (a)
09 Fancy Decor + KraftWork Fete d'hiver: Dessert Plates
10 Fancy Decor + KraftWork Fete d'hiver: Napkin
12 Fancy Decor + KraftWork Fete d'hiver: Winter Cake
13 Fancy Decor + KraftWork Fete d'hiver: Wreath
17 Fancy Decor + KraftWork Fete d'hiver: Drink Glass
20 Fancy Decor + KraftWork Fete d'hiver: Floor Candle
*Dahlia & KraftWork . Jora Collection . Wooden Chandelier
*Dahlia – Newport – Vintage – Books – Assorted Colors
*KraftWork Faux Sliding Door Christmas . Wood
*KraftWork Advent Calendar
*KraftWork Grasmere Collection . Small Vase Creme
*KraftWork Holiday Cocktails . Christmas Wine Bottle 1
FINCA – Oranment set ii (by kennasatodesigns.etsy.com)
FINCA – Star cookie ornament
Bygone Garland Pepper & Pomegranate (modified)
Lagom – Paper advent star
NOMAD // Star Curtain
+Half-Deer+ Christmas Tree II – Topper – Bow (modified)
+Half-Deer+ Thorny Vines II – ALL – Sprawling
tarte. burlap christmas presents (modified)
MADRAS Bradfield Wood Wreath ~ Natural
Botanical – Black Fir Wreath
Botanical – Black Fir Christmas Tree
Atelier Burgundy . Lignum Wall Panel
Belle Epoque { Long Winter } Bag Brown