One day it'll be a good day, for sure, you won't always be alone..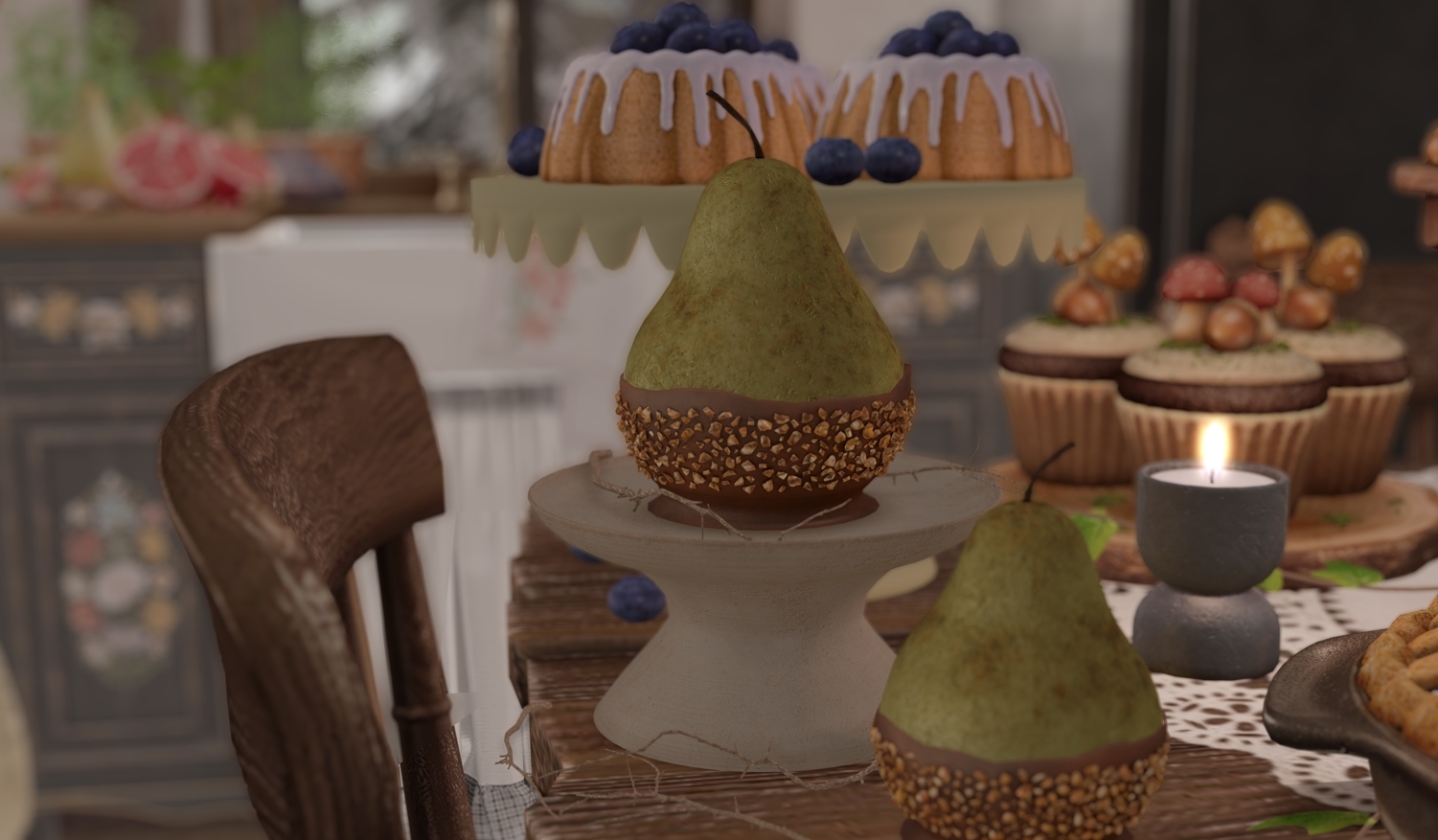 I personally have never had chocolate dipped pears, but WOW does Rogue of Disorderly make these look exceptionally tasty! And you can find them at The Food Court event which ends on the 21st.
Hope you all brought napkins, I'm going all in and finishing them up if you don't hurry!
---
@The Food Court Jan 2023 Edition
*DISORDERLY. / Dipped Pears / Tray Pears / Chocolate
*DISORDERLY. / Dipped Pears / Stand Pears with Nuts / Chocolate
*Pitaya – Provencal sink – Black
---
Random Matter – Cottage Cookery – Cook Stove [Coal]
Random Matter – Cottage Cookery – Kettle [Tin]
Random Matter – Cottage Life – Barrel Stack
Random Matter – Cottage Life – Dining Table
Random Matter – Cottage Life – Dining Chair
Random Matter – Cottage Life – Shelf [Dark]
Random Matter – Cottage Cookery – Blueberry Pie [Green]
Random Matter – Woodland Treats – Cupcakes [Vanilla]
Random Matter – Woodland Treats – Cake [Vanilla]
Random Matter – Autumn Treats – Wet Ingredients
Random Matter – Autumn Treats – Dry Ingredients
Random Matter – Autumn Treats – Bundt Pan
Random Matter – Autumn Treats – Cooking Utensils
[Merak] – French Press White
[Merak] – Casserole Oval Pot White
Pitaya – Spices Seller – Closed Bag
Pitaya – Spices Seller – Bag 03
{vespertine} – savoury rustic menu. – fruit centerpiece
{vespertine} – rowan berries. – green.
{vespertine} potted herb mix 2
{vespertine} herb drying
Trompe Loeil – Antique Crate Decor
Trompe Loeil – Antique Pot Rack
Trompe Loeil – Antique Icebox Black
Dutchie bundle of peppers on a string
Dutchie bundle of garlic on a string
MADRAS Wintertide Rug
DISORDERLY. / Bundt Summer / Blueberry / Big Stand
Deco Soup. Vintage Doily Flat
8f8 – primavera in Toscana Sifter with Roses
8f8 – primavera in Toscana Wooden Sifter
Half-Deer+ English Ivy
Elm. Alisa Cabinet Decor ~ Small Candle [Black]
*HISA – The Windburrow