Cares all past, home at last!
Oh Deer's From the Cookbook collection is 100% original mesh designed by Bambi Foxdale herself, and we are so pleased to feature all the goods right here at Cozey!
A fitting close for 2022, in that we reflect on all the blessings and challenges of the year, regaining mental strength and fortitude for the next!
We must show the up closers!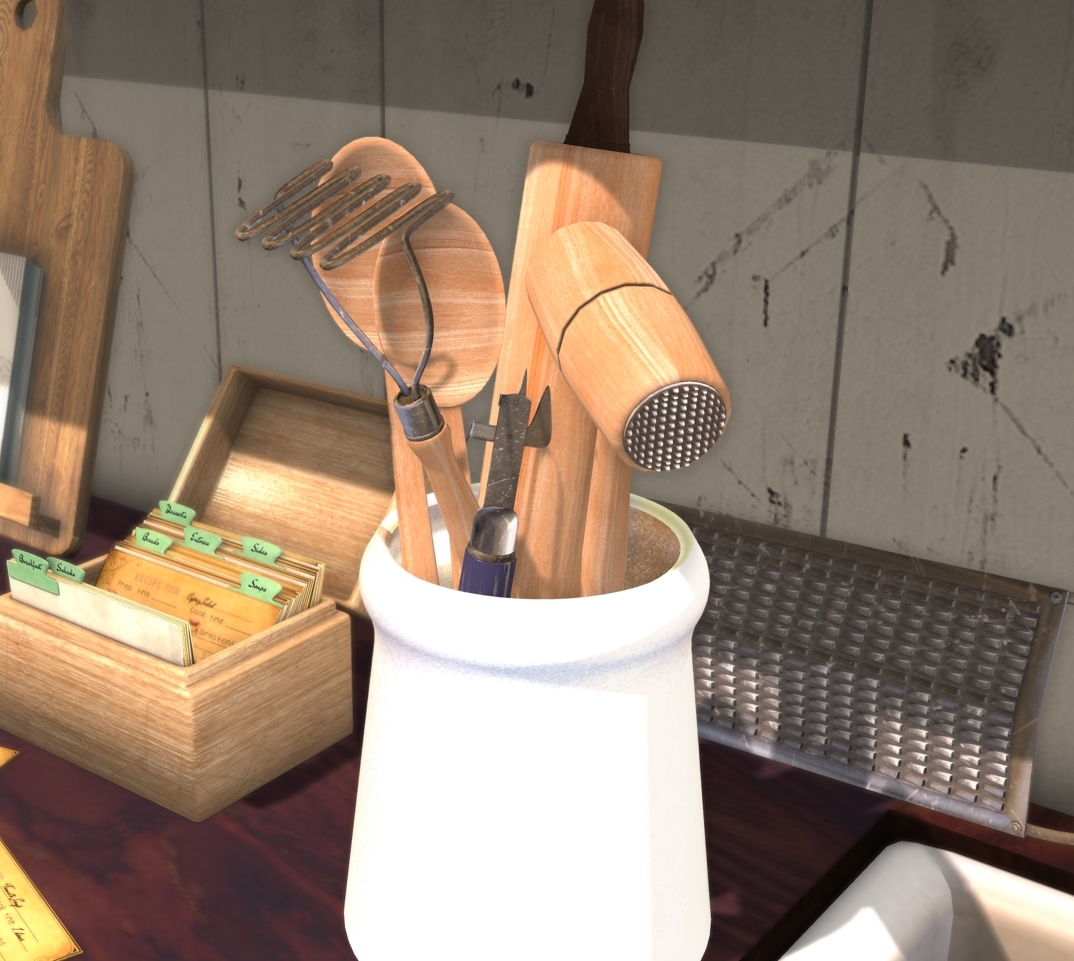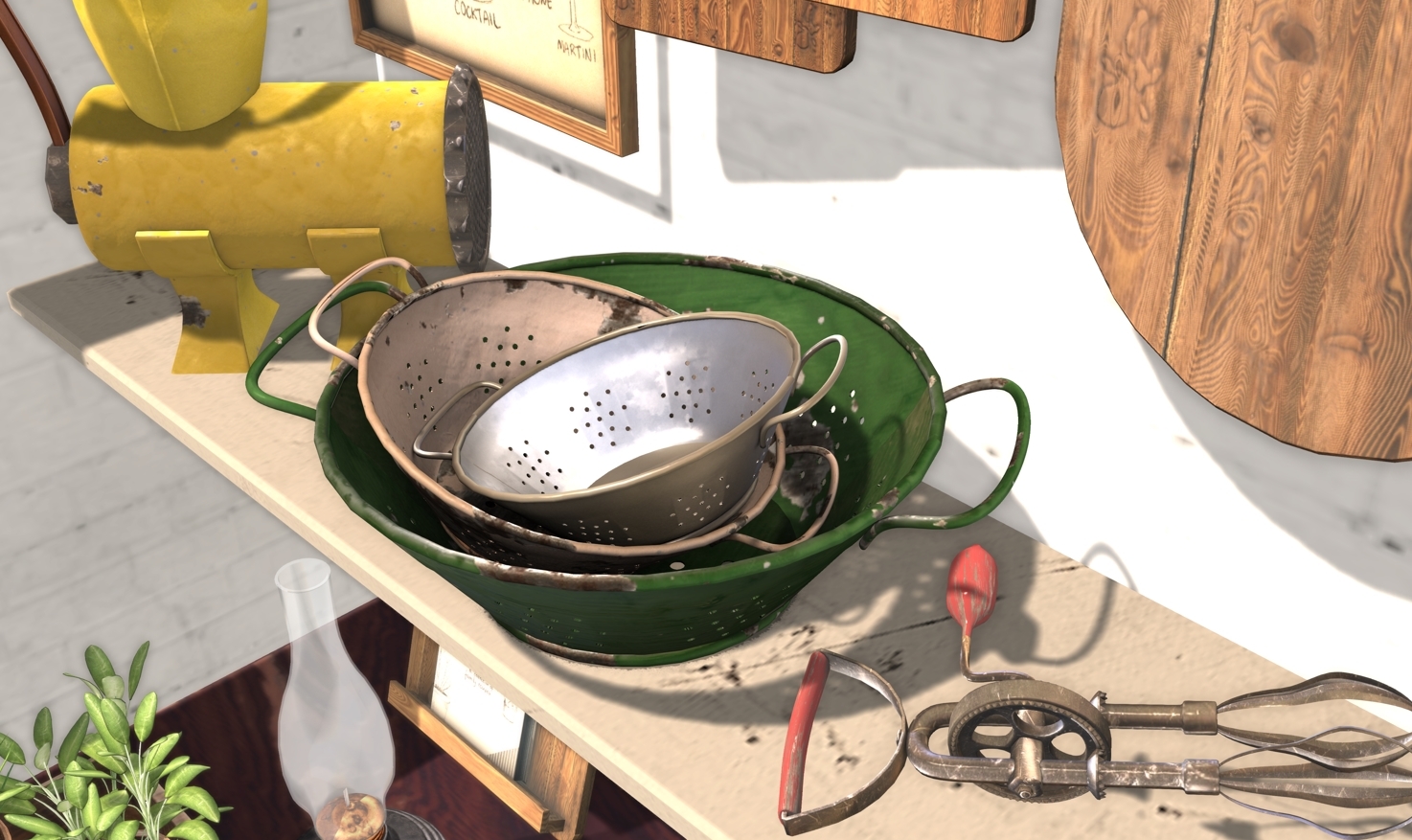 Absolutely adore the texturing, you can practically see the worn usage on each piece. I love the whole nostalgia of kitchenware in a bygone era, that reminds me so much of home.
I will be spending this entire week in the kitchen and dining portion of Cozey so be sure to check back often for posts!
Until the next, fellow traveler!
---
@Uber
*Oh Deer! From The Cook Book Collection
Oh Deer! From The Cook Book – Kitchen Counter
Oh Deer! From The Cook Book: Dining Table
Oh Deer! From The Cook Book – Mixing Bowl
Oh Deer! From The Cook Book – Grandma's Secret Recipes
Oh Deer! From The Cook Book: Meat Grinder
Oh Deer! From The Cook Book – Old Strainers Bonus
Oh Deer! From The Cook Book – Old Mixer
Oh Deer! From The Cook Book – Schnitzel Hammer
Oh Deer! From The Cook Book – Do the Mash Potato!
Oh Deer!From The Cook Book- Rollin Pin
Oh Deer! From The Cook Book – Can Opener
Oh Deer! From The Cook Book – Big Spoon
Oh Deer! From The Cook Book: Oil_Lamp
Oh Deer! From The Cook Book – Cheeze Grater
---
*BROKEN ARROWS – Farm Life – Crate of Baking Sheets – White Wood
*BROKEN ARROWS – Farm Life – Grater & Spoons – Rusty
*BROKEN ARROWS – Farm Life – Milk Can – Rusty
*BROKEN ARROWS – Chicken Egg Holder – White (Brown Egg)
*[Brixley] farmhouse kitchen – groceries sign
*[Brixley] farmhouse kitchen – chalkboard
*[Brixley] farmhouse kitchen – shelf wall
brocante. drink milk sign
Atelier Burgundy . Cutting Boards Decor II
Atelier Burgundy . Cookbook Holder w/ book
Atelier Burgundy . Kitchen Art . Glassware
Atelier Burgundy . Kitchen Art . Conversions
{vespertine}puff pastry wreath with raisins
{vespertine} herb drying
{vespertine} potted herb mix 2
{vespertine} potted chives
{vespertine} potted sage FATPACK extra
{vespertine} veggie crate
*[Cinoe] Cleaning the mind – Wood box
*[Cinoe] Cleaning the mind – Spray (Decor)
*[Cinoe] Cleaning the mind – Scourer
{YD}Silverware Holder – Rustic
*Soul2Soul. Diana Floral Curtain. Tied
*Soul2Soul. Artisan Kitchen Utensils Jar
*Pitaya – Indoor Plants
POST: Marquette Monitor Top Refrigerator
POST: Marquette Gas Stove
POST: Marquette Braid Rug
..::THOR::.. NY Observer Newspaper
Muniick- Wickman Farmhouse Kitchen Hand Towels