Its a stinkin' cute holiday smorgasbord is what this chaotic-ness is.
Did I go alllll out this weekend and unpack all the things? Yes. Your adventure through the creepy credits is going to be an epic one me thinks.
Candy Corn plushy is holdable by the way! I ought to feature my avatar more and interact with some of these decor, but she's a total, hot, mess.. and not in the good way. Someday!
Just for fun, here is the raw image I took in world before putting it through PS magic. I have been enjoying working with in-world lighting again, and it always amazes me at what illuminates well and what needs help lol.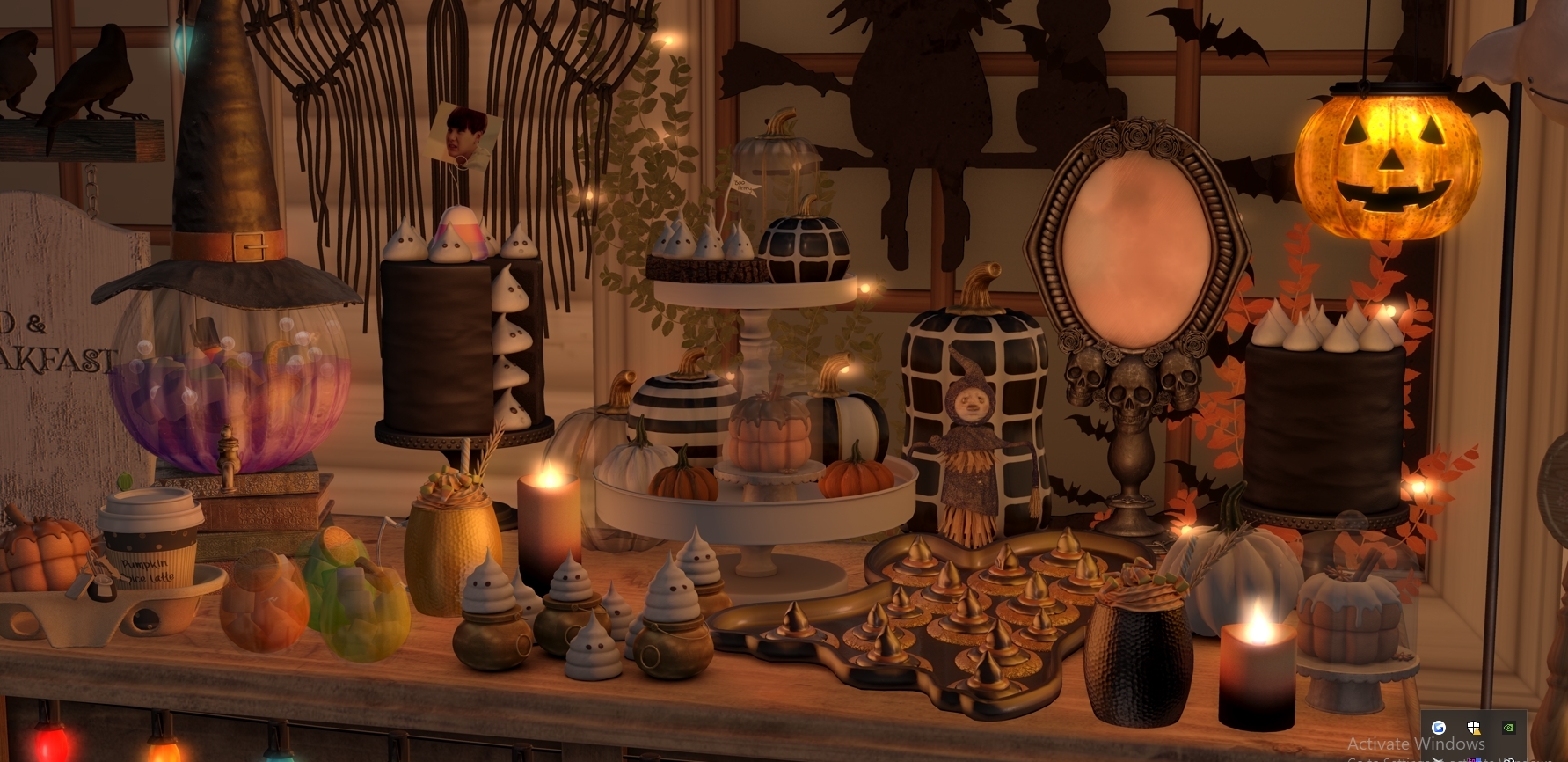 This one didn't 🙂 I just  used a bit of contrast and glow to show everything off. Hope you enjoy and have a splendid start to your week!
---
@Collabor88 Oct. 2022
Dahlia – Cecil – Takeaway – Black – Decor
Dahlia – Cecil – Keys – White – Left
Dahlia – Cecil – Pumpkin Cake Cloche – Vanilla
Dahlia – Cecil – Pumpkin Cake Cloche – Chocolate
MADRAS Hallow's Eve Set  Pumpkins
MADRAS Hallow's Eve Display Tray White
MADRAS Hallow's Eve Bats Black
BROKEN ARROWS – Scare Mirror – Worn
Barnesworth Anubis [ba] brevard cottage
DISORDERLY. / Hallow Neon / Decor / Tall
---
Dahlia – Occult – Bat Macrame | Satan Inc. 
Dahlia – Candy Corn – Plushie – Chocolate – Decor | The Main Event, Fall-O-Ween Shop & Hop
Pitaya – Grandma's rocking chair (natural) | Anthem
Pitaya – Grandma's rocking chair (dark) | Anthem
Pitaya – Witches' refreshment (decor) | Satan Inc. 
Pitaya – Witches' refreshment (decor) Special Edition | Satan Inc. 
Pitaya – Witches cocktail (jar) | Satan Inc. 
Pitaya – Witches cocktail (glass) | Satan Inc. 
Aardvark : Witch Pumpkin Cookie tray | The Main Event, Fall-O-Ween Shop & Hop
#SLShopHop | GIFTS
tarte. jack plushie w lights
+Half-Deer+ Everlight Candle – (Halloween)
What Next {wn} Pumpkin Pathway Lantern #3
CHEZ MOI Raven Sign
Krescendo Batty Planters
Sway's [Candy Corn] Picture Holder . purple
---
Dahlia – Sienna – Console Table – Sable
MADRAS Ghost Meringue Cut Cake
MADRAS Ghost Meringue Gold Pot
MADRAS Ghost Meringue Boo Army
MADRAS Ghost Meringue Cake
MADRAS Pumpkins Decor White
MADRAS Pumpkins Decor Natural
Pitaya – Grandma's wardrobe BLACK
Oh Deer! Love in Vane: Lil Witch
Oh Deer! Happy for you to: Meet Jack!
Oh Deer! Happy for you to: Meet Carrie
D-LAB Halloween king doll
dust bunny . string lights . colored
tarte. autumn garden balloon – orange
tarte. russian ivy