Tasty morsels a la pizza pie, I think this is what's for dinner..
More up closers for us..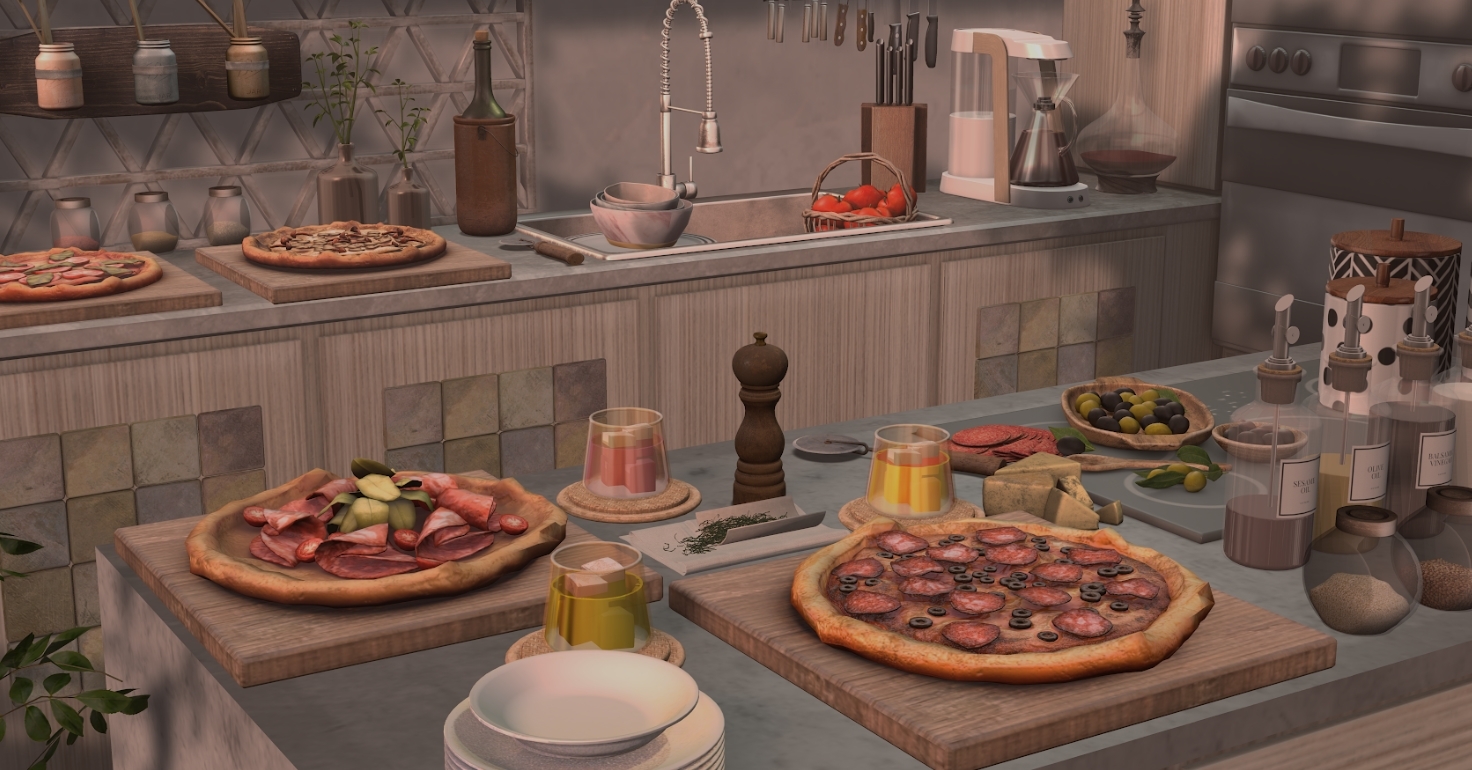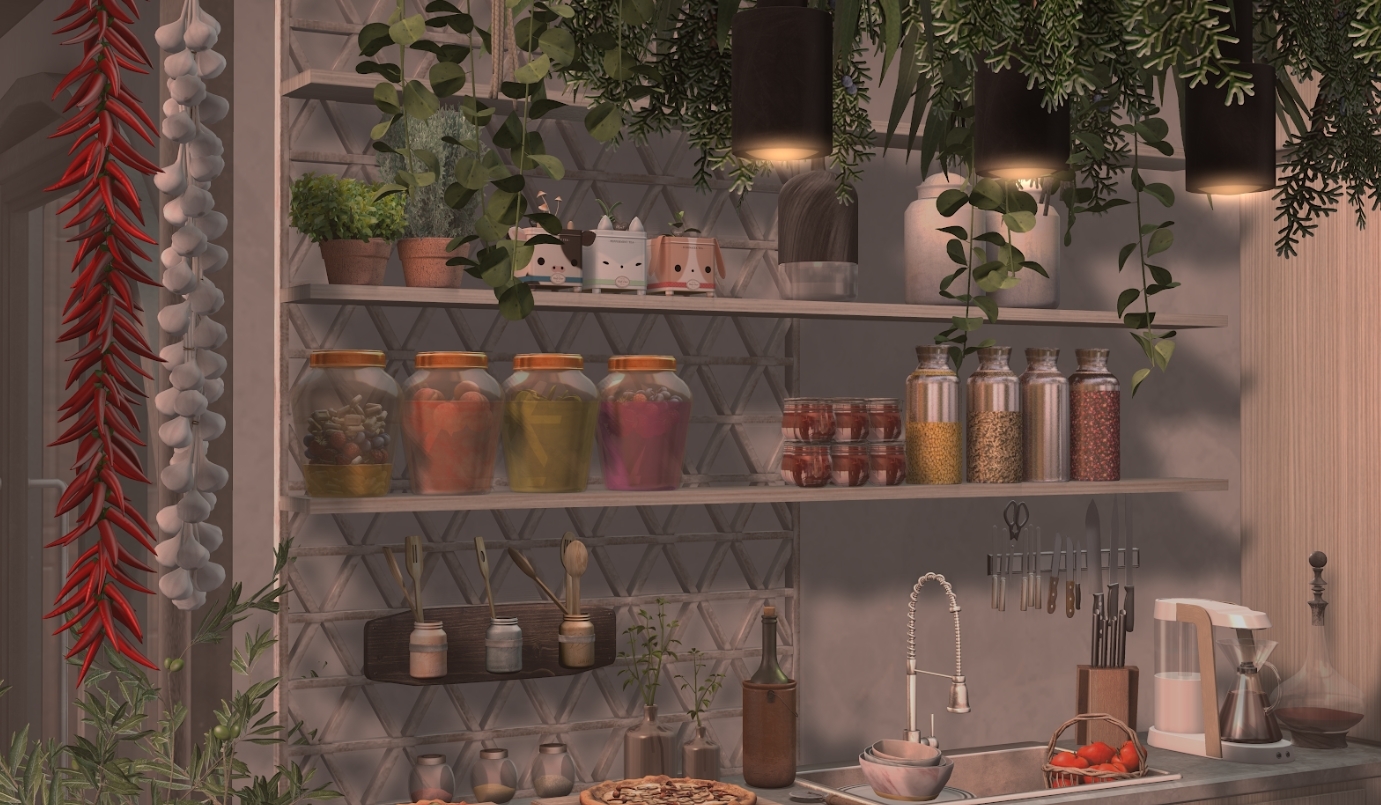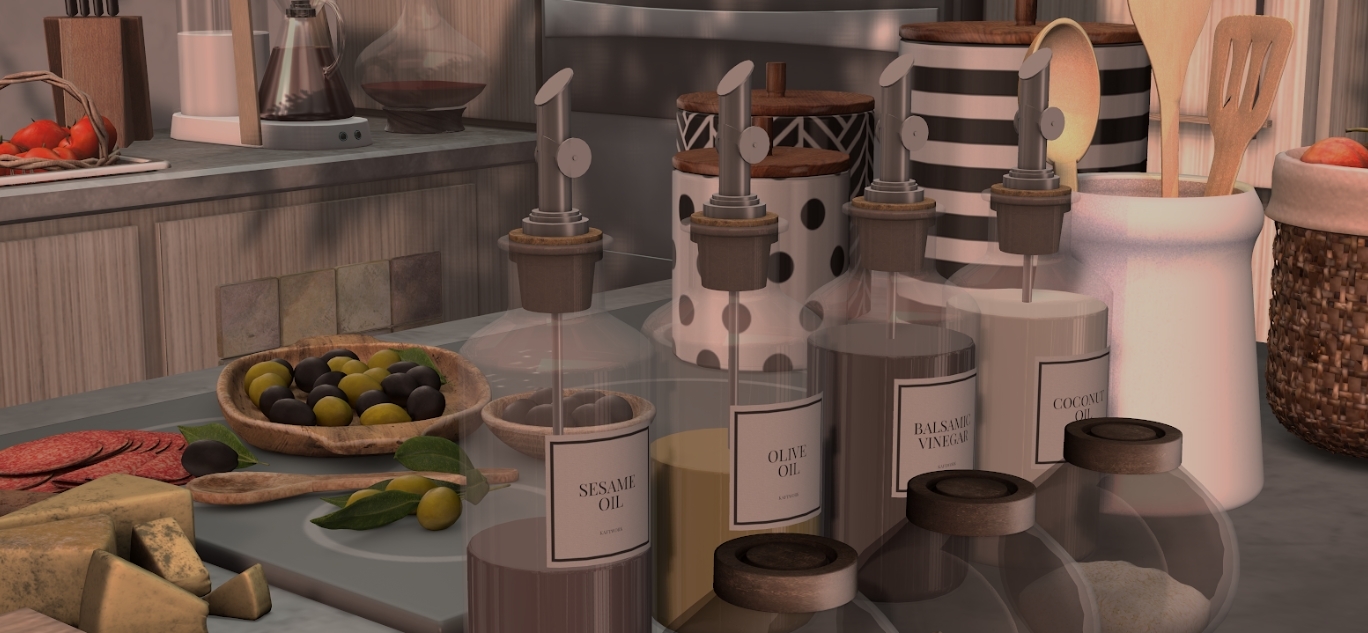 Lots of edible details, in the cucina tonight! Cinoe continues to tickle our appetites with food lovin'! Their latest release for Kustom9 is an abundance of our favorite kind of pie at Cozey!
Tromple Loeil's Zujin Estate will take me a few days to properly showcase, the featured image today is only of the kitchen.. only! Be sure to stay tuned for the rest.
Its Saturday late afternoon for me here in Seattle, and the pizzas are tempting me to forgo cooking lol. Don't you loathe when that happens?!?!
Or maybe some bulgogi…bulgogi on pizza? hmmmm
---
@Alpha
Trompe Loeil – Zujin Modern Estate
standalone build at a 44.2 meters by 27 meters footprint
282 Land Impact
Other yumminess–

KraftWork Vinegar & Oils . ALL (Silver)
KraftWork Pantry . Kitchen Filler White
[Cinoe] Looking forward to the future – liquor Glass (Lemon)
[Cinoe] Looking forward to the future – liquor Glass (Berry)
[Cinoe] Looking forward to the future – Berry liquor
[Cinoe] Looking forward to the future – Kiwi liquor
[Cinoe] Looking forward to the future – Plum liquor
[Cinoe] Looking forward to the future – Berry liquor (Continued
[Cinoe] Looking forward to the future – Fruit basket
AB+KW+Pitaya . Nordic Cottage . Kitchen Runner
AB+KW+Pitaya . Nordic Cottage . Stool
AB+KW+Pitaya . Nordic Cottage . Indoor Tree
AB+KW+Pitaya . Nordic Cottage . Note Display
AB+KW+Pitaya . Nordic Cottage . Kitchen Spotlights
Dutchie bundle of peppers on a string
Dutchie bundle of garlic on a string
Fancy Decor: Drip Coffee Maker (white)
Pitaya – Wood&Glass Wine Collection – Bottle 03 BLACK
Pitaya – Wood&Glass Wine Collection – Water Jar BLACK
dust bunny . farmers market . tomatoes
Sari-Sari – Kitchen Essentials – Knife Strip
MudHoney Kitchen Clutter Knife Block
MudHoney Kitchen Clutter Cannisters
MudHoney Kitchen Clutter Measuring Cups
Old World Olives
Hideki – Kitchen Jars
mintae. Keiko – Tea Herb
..::THOR::.. Pepper Grinder
..::THOR::.. Pizza Cutter
..::THOR::.. Wine Chiller
220ML – Wine Table Me and You – Cheese
220ML – Wine Table Me and You – Salami
NOMAD // Ocimum Basilicum (mod)
Soul2Soul. Rustic Chic Kitchen Storage Jars C
Soul2Soul. Rustic Chic Kitchen Storage Jars A
Soul2Soul. Rustic Chic Kitchen Herb Plants
Soul2Soul. Artisan Kitchen Plates Stack
[Merak] – Strawberry Jam Jars
Lark – Jar Utensil Holder
Atelier Burgundy . Geometric Privacy Panel I . B&W
+Half-Deer+ Tea Tin Gardens
Soy. Potted Olive Tree
Kalopsai – Plants – Floor
Kalopsia – Tamsin's Table Plant
tarte. hanging trailing jade plant
[Tia] Pompeii – Fragrant Hanging Herbs