Welcome to Cozey Small Town Eats! This episode is sure to bring you memories of culinary yesteryears!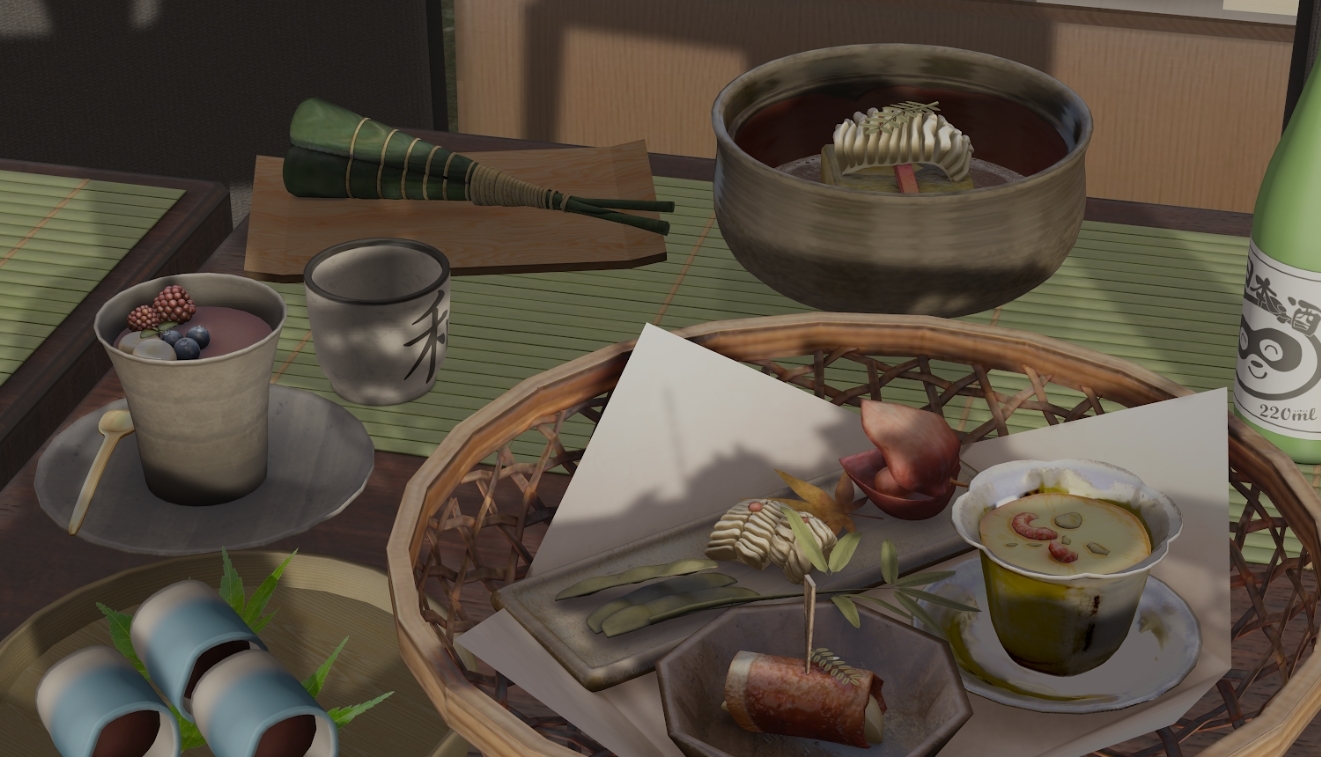 The Summer Mountain set is a yummy collaboration from Chubee & Cinoe for Japonica's Summer Festival. I wanted the setting to be as close to where I would have this meal in the real, as possible.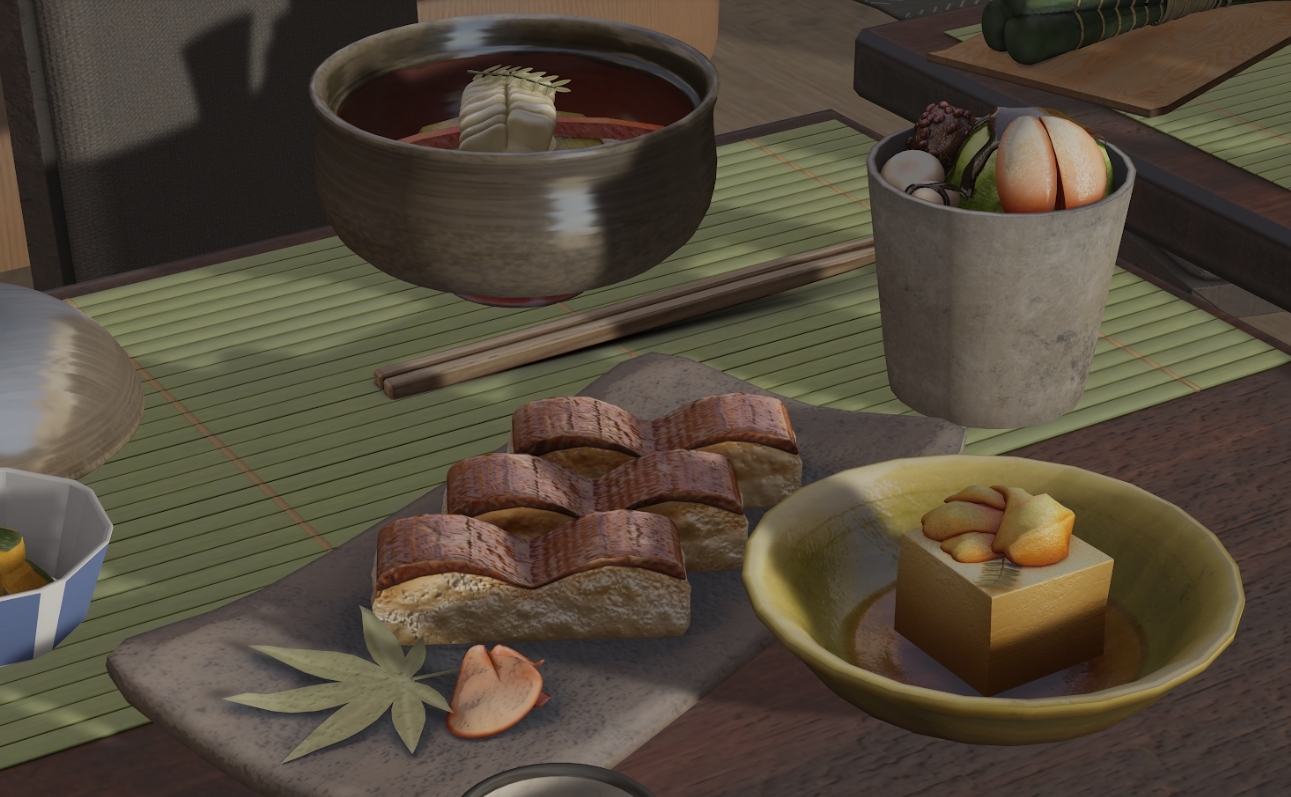 So I also picked up MB's Wagashi-Ya Sweet Shoppe as well, and they just looked so cute together! I can just picture all 10 of us enjoying a meal or ten…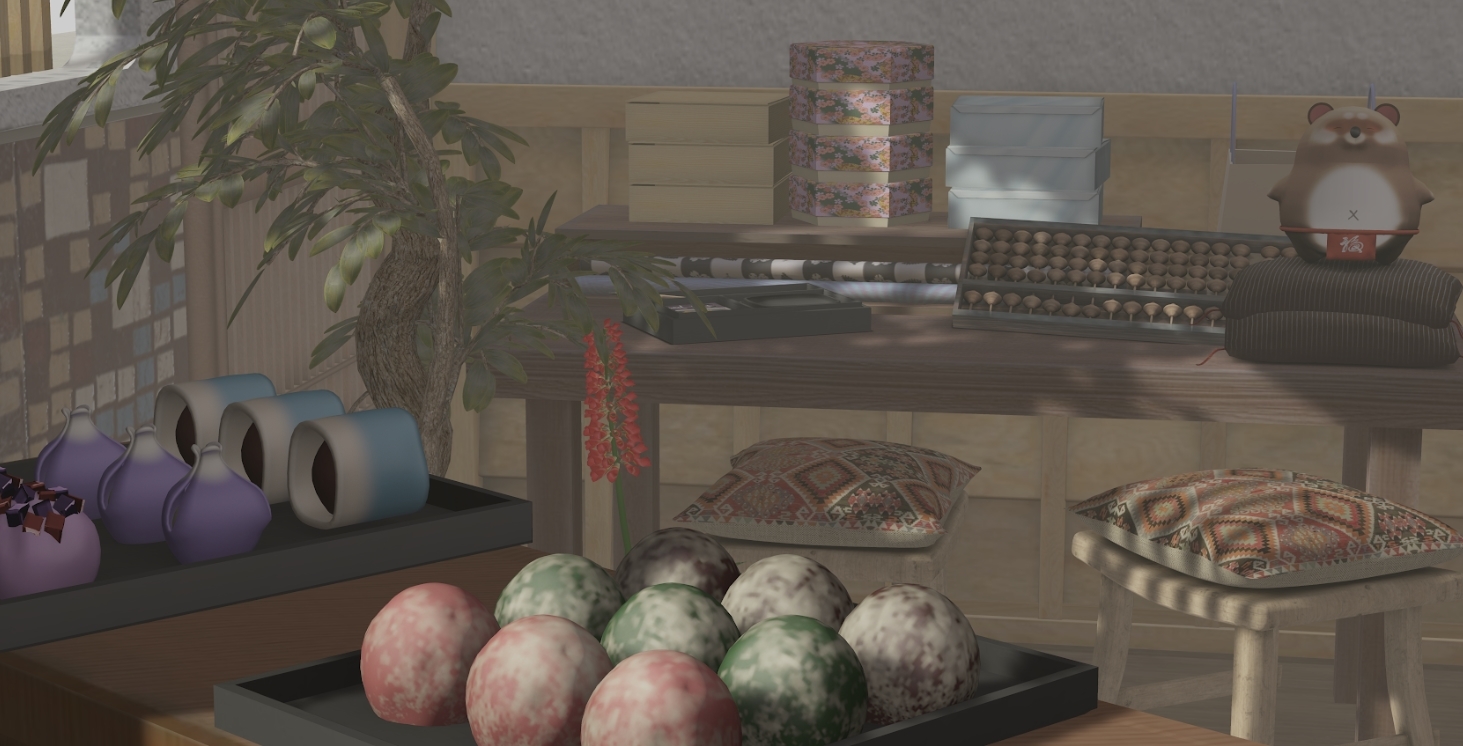 There's so much to unpack! And most everything in the new releases are copy/mod, so multiply away and let me know how they all taste!
---
@Japonica Summer Festival June 30- July 21
CHUBEE MONSTER &[Cinoe] Summer mountain set – Appetizer
CHUBEE MONSTER &[Cinoe] Summer mountain set – Eel sushi
CHUBEE MONSTER & [Cinoe] Summer mountain set – Bowl Soup (Lid)
CHUBEE MONSTER &[Cinoe] Summer mountain set – Hassun
CHUBEE MONSTER &[Cinoe] Summer mountain set – Hojicha jelly
CHUBEE MONSTER &[Cinoe] Summer mountain set – Chopsticks
CHUBEE MONSTER &[Cinoe] Summer mountain set – Matcha parfait
[MB] WAGASHI SHOP -Case with item
[MB] WAGASHI-Ya -Empty case-
[MB] WAGASHI-YA -working desk-
[MB] WAGASHI-YA -Noren-
[MB] WAGASHI-YA (japanese sweets shop)
[MB] WAGASHI-YA -Dorayaki display-
[MB] WAGASHI-YA -Manjyu display-
[MB] WAGASHI-YA -Season item display-
[MB] WAGASHI-YA -Wagashi POP1-
[MB] WAGASHI-YA -Summer sweets display-
[MB] WAGASHI-YA -Chimaki dish display-
Other tasty things-
[MB] Ramen shop -Choumiryou- (Spice)
[MB] Ramen Shop -Hashi-
[MB] OBANZAI -Kabocha- (pumpkin
[MB] OKAZARI -New Year Decoration- 2019
[[RH]] KADOMATU (Dark-R)
[MB] OBANZAI -Menue- (Fat Pack Gift)
[[RH]] CHOUBA -Tanuki (Fukukichi)
[[RH]] CHOUBA -Soroban-
[[RH]] CHOUBA -Suzuri-
Soy. Stepping Tiles
Soy. Oriental Plants [potted fruticosa]
Soy. Green Plants Wall Panel
Soy. Shitamachi Alley Garden – Potted Plant
DYNASTY x Bad Unicorn – Li Cha Bubble Tea Cafe – Small Table
DYNASTY x Bad Unicorn – Li Cha Bubble Tea Cafe – Chair
BALACLAVA!! Fuji Kerosene Heater (Forest)
BALACLAVA!! Conrad Rug – TypeA Coal
BALACLAVA!! Express Electric Kettle
Concept} 05. Rodas. Pillow Stool colors
Kalopsia – Bamboo Hanger
220ML – Peace & Sake – Sake Bottle
220ML – Peace & Sake – Sake Jar
220ML – Peace & Sake – Empty Sake Cup
220ML – Peace & Sake – Bamboo Mat
8f8 – Whites – Summer Circle of Life