Had a lot of fun setting this up and took extra shots, I hope you enjoy!
Dahlia & Madras have teamed up for FaMESHed to create the Praiano Outdoor Dining set, and so many chic accessories for your al fresco kinda living…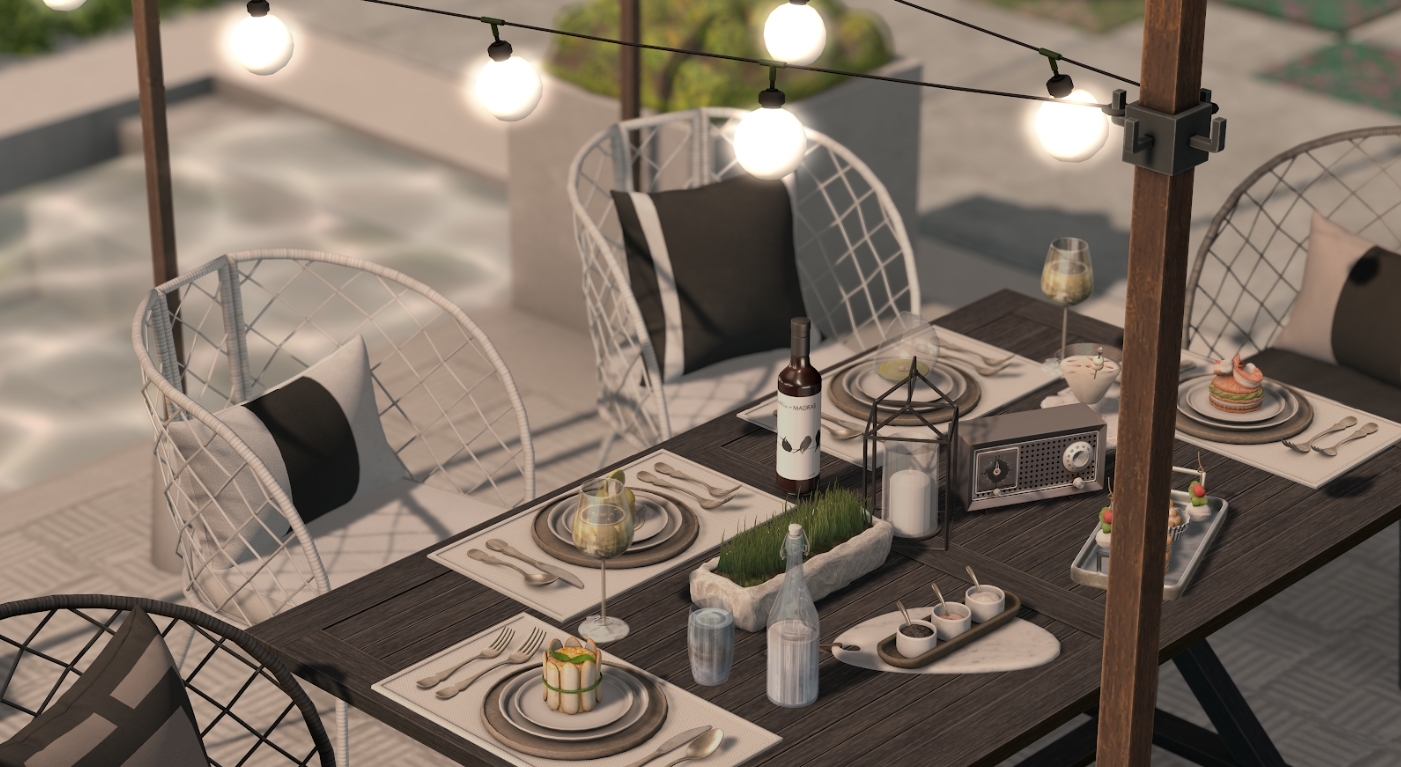 The first thing I noticed right off was the wheat grass center piece.. I love salady things in the middle of the table! The chairs have loads of fabric options and the wicker has 4 tones as well.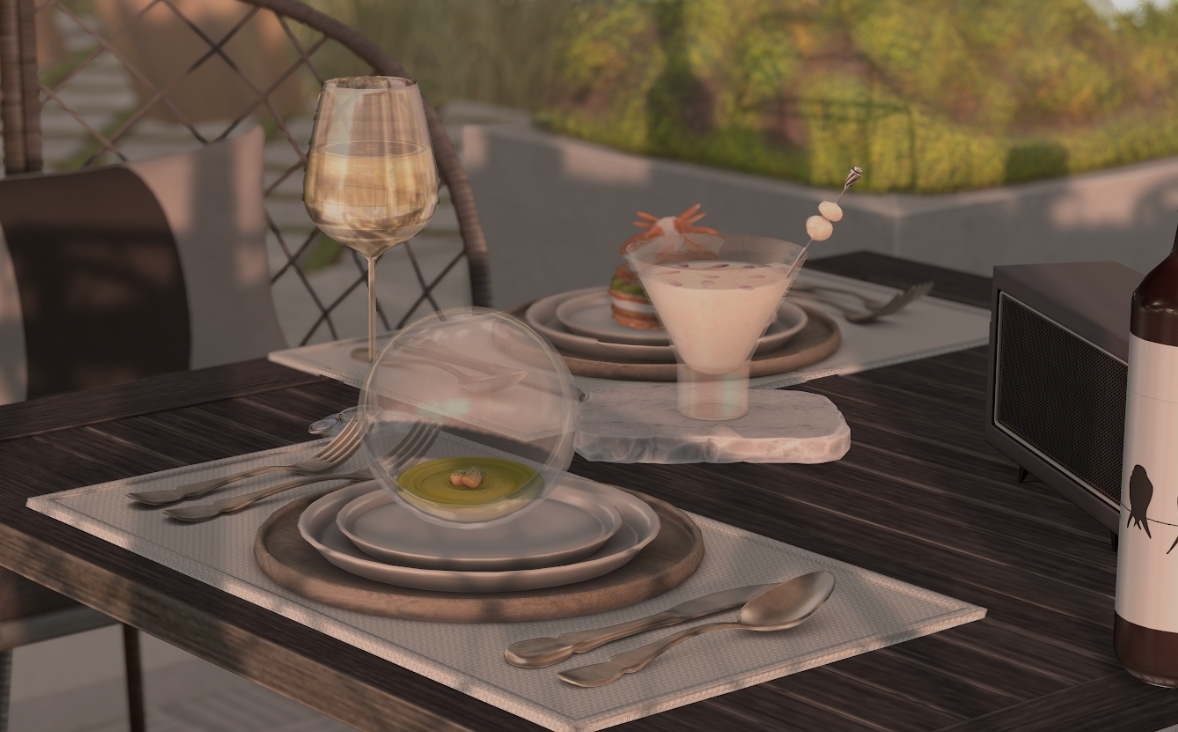 But the food items are again, where Dahlia shines through. This soup bowl paired with this luscious asparagus soup sums up the entire scene for me. Refreshing, clean, light… I'm sort of in love lol.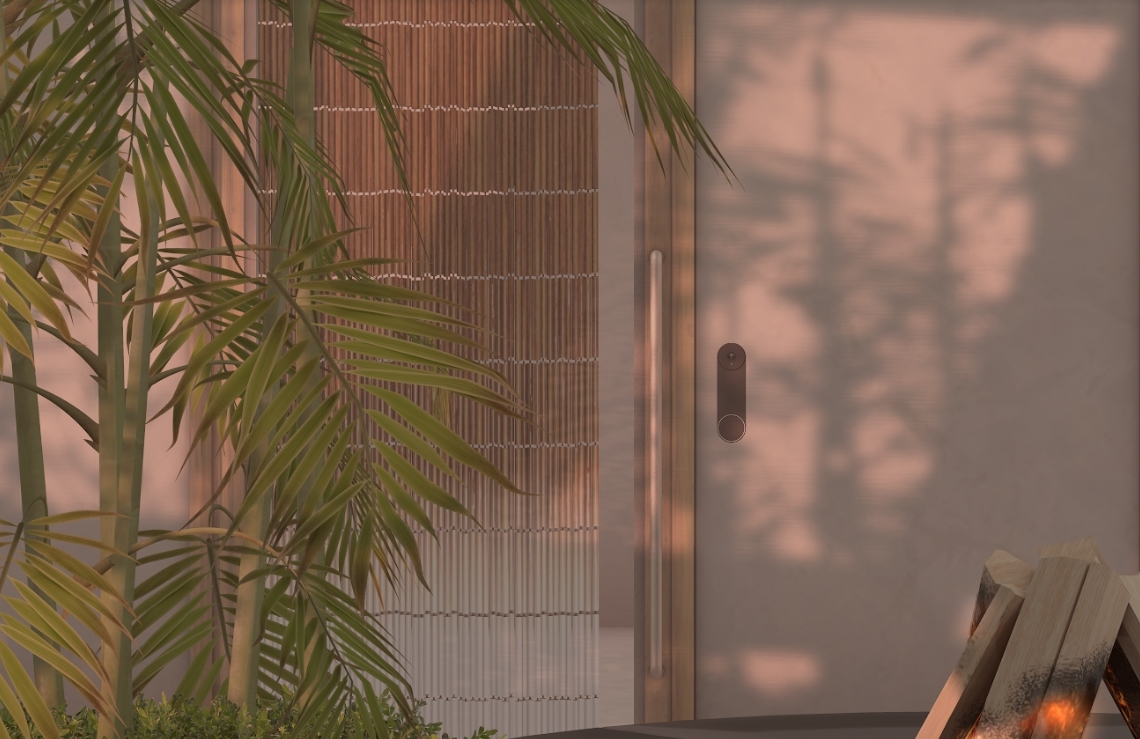 Up close, that right there thingamajig, is Fancy Decor's latest release for Collabor88. This doorbell will play you a chime and will shout your name in local! Several colors to choose from as well.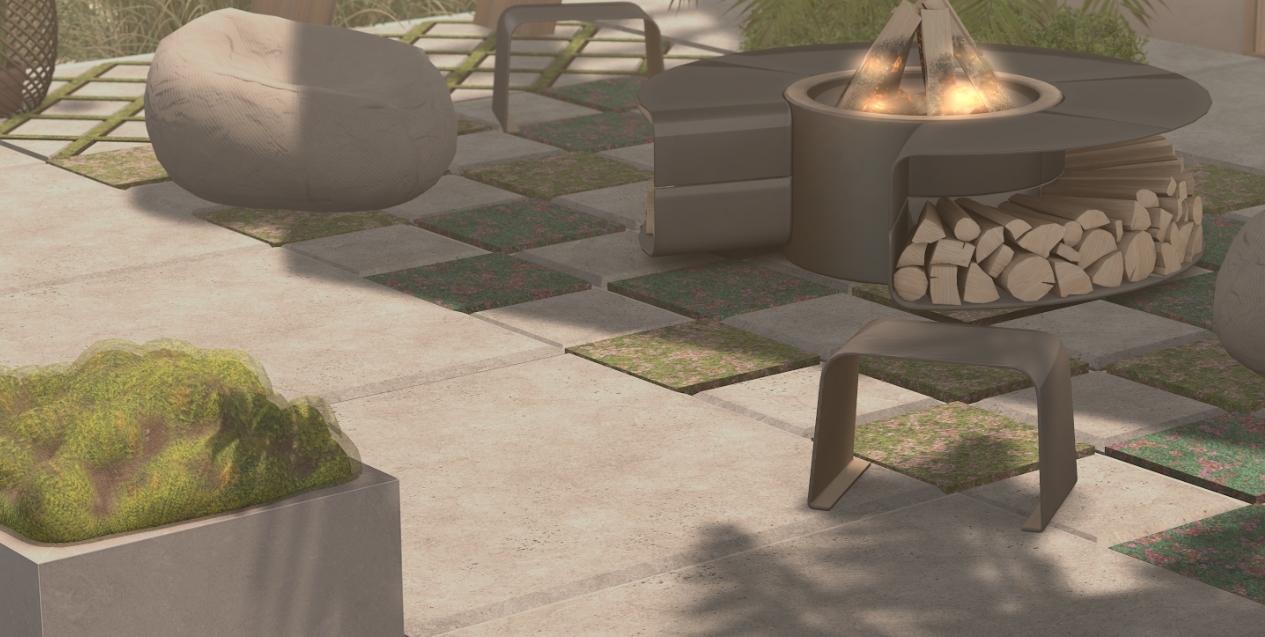 Last but certainly not least, are the Wonderful Day pavers, also from Dahlia, which are available at Collabor88, also with an All seasons option, and 4 variations of patterns.
Had the most fun setting these down and thinking of layout designs. It is always okay to go overboard with your imagination!
Do peruse the credits for the details, there are several events listed and I've attached the SLurls! Aloha for now!
---
@Collabor88 June 2022
Dahlia – Wonderful Day – Pavers – Checker 1 – All Seasons
Dahlia – Wonderful Day – Pavers – Checker 2 – All Seasons
Dahlia – Wonderful Day – Pavers – Diagonal – All Seasons
Dahlia – Wonderful Day – Pavers – Plain – Bonus
Fancy Decor: Smart Doorbell – black
[Con.] Vintage Radio – Mono
@FaMESHed June 2022
Dahlia X MADRAS – Praiano – Outdoor String Lights
Dahlia X MADRAS – Praiano – Chair
Dahlia X MADRAS – Praiano – Table
Dahlia X MADRAS – Praiano – Wine Bottle
Dahlia X MADRAS – Praiano – Salt Tray Slanted – Silver
Dahlia X MADRAS – Praiano – Place Setting – White/Silver
Dahlia X MADRAS – Praiano – Table Planter – Yellow Green
Dahlia X MADRAS – Praiano – Water
Dahlia X MADRAS – Praiano – Water Bottle
Dahlia X MADRAS – Praiano – Moss Cement Pavers
Trompe Loeil – Nyoka Tropical A-Frame Cabin
@Alpha Event till June 18
Trompe Loeil – Sebaste Firepit Seat
Trompe Loeil – Sebaste Firepit
Trompe Loeil – Sebaste Monstera Plant + Basket
@Arcade June 2022
7. 22769 – Beanbag – Nature – RARE
@Anthem June 2022
Dahlia – Lestur – Hurricane Candle – Large
@Vintage Fair Coming soon! June 10th
Konoha – Calla lilies – Zantedeschia kimika
Other goods-
Avani Framed Pillow Collection, Black on Fog Lumbar One
Avani Framed Pillow Collection, White on Black Square Two
Avani Framed Pillow Collection, Black on White Lumbar One
Avani Framed Pillow Collection, Fog on Black Square One
(Fundati) Giant Coconut Palm Tree IV
(Fundati) Beach Dunes VIII -with rocks-
Cube Republic Pampas Grass
Cube Republic CR Pineapple Leaf
Konoha – Natoma's Boxwood Hedges
Skye Water
Skye Tropical Bamboo