I know, I know, but where else would you go to find that one thing??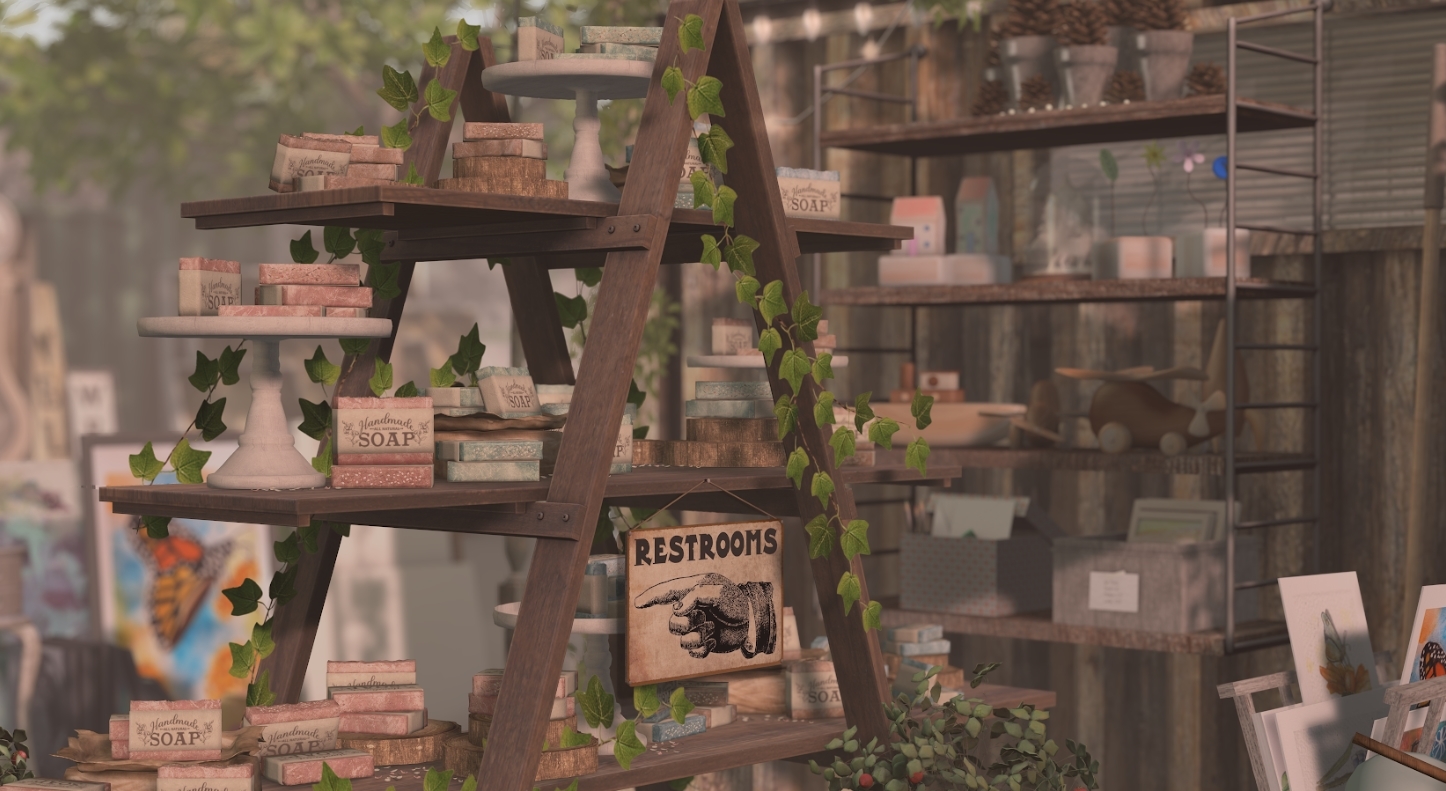 Rogue made these adorable Handsoaps for this month's Farmer's Market, I am loving every thing she makes for this event, because they really give off the perfect market vibe.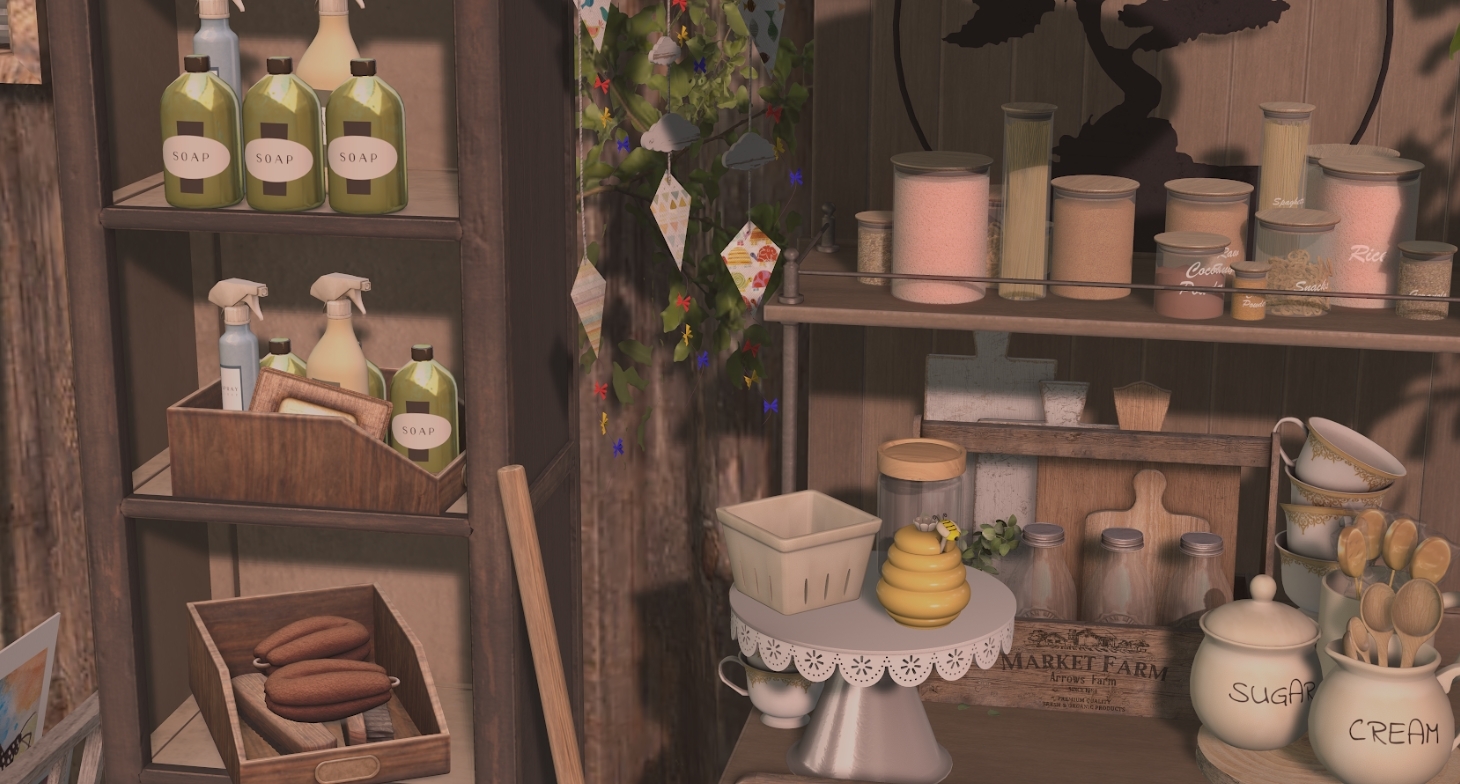 Many cute things to be seen, Cinoe's Cleaning the Mind collection for Arcade, Bloom's Honey set, and so much more. Cozey Swap is the best way I thought I could show it all.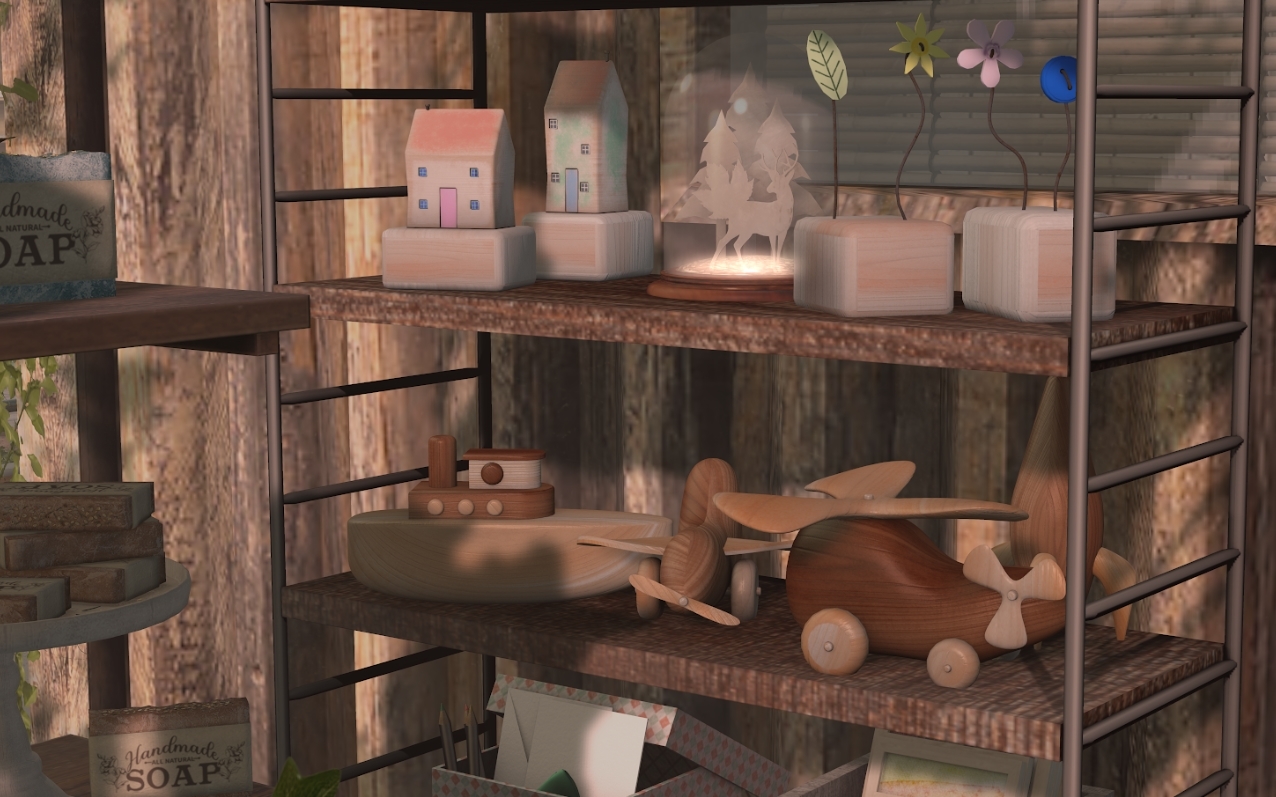 My dearest friend Bambi's beautiful collection is also out at Oh Deer for Farmer's Market.  All the designers this round have made such gorgeous things, I am amazed at the sheer pool of talent..
Do scroll through the credits for all the details! Have an enlighting and educationally sound weekend ❤
---
@Farmers Market
DISORDERLY. / Handmade Soaps Collection
[Merak] – Triangle Ladder Shellf Dark
[Merak] – Strawberry Plant
.::IDK::. Pantry jars
Bloom! Originals – Honey Jar plate
Bloom! Originals – Honey Candy plate
BROKEN ARROWS – Farm Crate – Wood
KraftWork Rustic Farm Homegrown Sign
KraftWork Florist . Tray Console . Rustic Farm Edition
BALACLAVA!! Dining Cabinet (Dark Wood)
Oh Deer! Uplifting – Planes
Oh Deer! Uplifting – Kites Mobile
Oh Deer! Uplifting – Rocket
Oh Deer! Uplifting – Boat
Oh Deer! Uplifting – Fox Friend
Oh Deer! Bits and Bobs: Wide House
Oh Deer! Bits and Bobs: Narrow House
Oh Deer! Bits and Bobs: Green Yellow
Oh Deer! Bits and Bobs: Pink and Blue
Cwtch. Art Print Stand
Cwtch. Monarch Butterfly Framed Artwork
Cwtch. Print Display Box
@Arcade June 2022
DP – RoboBuddy Dark
14.[Cinoe] Cleaning the mind – Liquid soap
11.[Cinoe] Cleaning the mind – Spray (Decor)
13.[Cinoe] Cleaning the mind – Bar soap
12.[Cinoe] Cleaning the mind – Wood box
16.[Cinoe] Cleaning the mind – Scourer
5.[Cinoe] Cleaning the mind – Broom (Yellow)
19.[Cinoe] Cleaning the mind – Bucket Red (decor)
20.[Cinoe] Cleaning the mind – Bucket Blue (decor)
All other goods-
FINCA – Steel Enchanted Mirror
FINCA – Butterflies clock – rustic brown
FINCA – Steel Enchanted Vanity
FINCA – Steel Enchanted Vanity Stool
DISORDERLY. / Crafty Mugs / Mug Tree / Set 2
DISORDERLY. / Crafty Mugs / Mug Tree / Set 1
Kalopsia – Debee's Candles
BROKEN ARROWS – Farm Kitchen II – Forks
[ keke ] hard to find plates stack
Concept} 08. Dunas – Roll Carpets
DISORDERLY. / Light Pine / Frames
DISORDERLY. / Light Pine / Pots
Avani East Display Cabinet, Narrow
Lark – Display Shelf (A)
Soul2Soul. Rustic Chic Basket w/Magazines
Oh Deer! Happy New Year Glass Dome
Oh Deer! Kintsugi: Bonsai
..::THOR::.. Restroom Sign
22769 ~ [bauwerk] Pile of Books – COMMON
.:revical:. deco signs rusty
Apt B // Tiny Flea Market Closet RARE
Trompe Loeil – Paxton Canvases
junk. abstract canvas. floor.
MudHoney Rustic Welcome Sign
Trompe Loeil – Shipping Crate Studio Green
Trompe Loeil – Shipping Crate Studio Wood
–ANHELO-M24SL-16BGA :: street light
–ANHELO-M22FL-16BGA :: railing for street
Atelier Burgundy . Birthday Card Clutter Box
HISA – Hanging vines
+Half-Deer+ English Ivy