Greetings Sunday scrollers! Here's our smol venue for the day featuring exclusives from Elm!
Hodgepodgey-ness is my specialty, and if this is your first time visiting the Cozey corner, welcome! It might look squished, but there's always room for your weary tush to have a sat.
I would like to take a sentence or two to talk about Battlescars' latest windlight release, "Nature", and how absolutely stunning each preset truly is! Here's  4.0 (sunset) without any editing: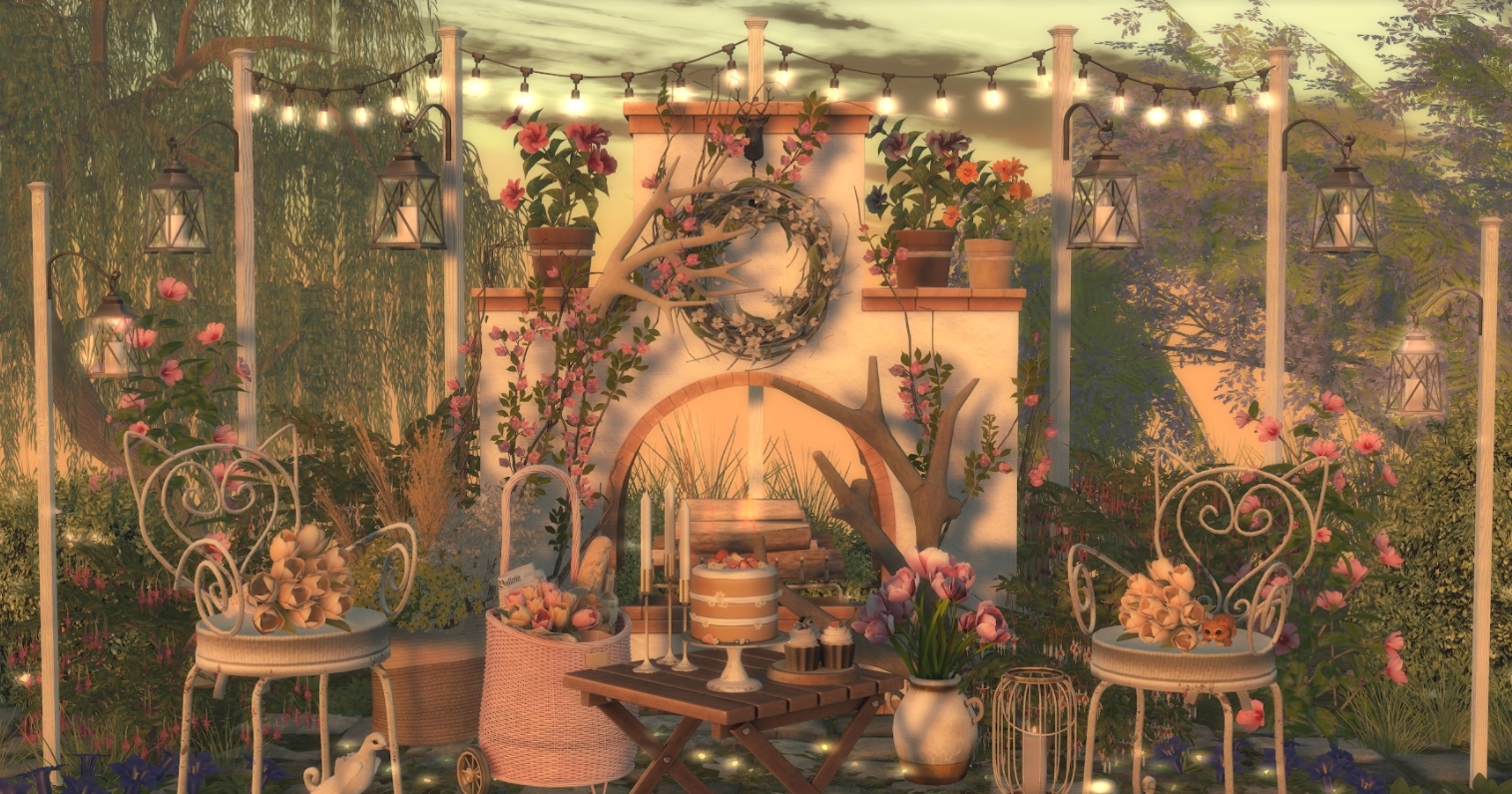 I really hemmed and hawed over which one to choose but the entire pack  is worth getting. I have also been hawing over the possibility of uploading my beforePS fotos on my Twitter account, for funsies… we'll see!
Elm has a few releases out in the grid right now so do check the credits for LMs and details. Also if you peek close enough, you can make out Cube Republic's Fuchia plants for this year's Bloom Event.
Hoping you all who've read this far, will have a better day today, and it is okay if you don't. Sometimes just getting through it gives enough strength to face it all again..as long as we're together!
---
@ BATTLESCARS WINDLIGHT NEW!
Jay BattleScars – PREMIUM – CLOUDS – NATURE Set
@Access March
Elm. Camelia Outdoor Fireplace w/ Vines [White]
Elm. Camelia String Lights ~ Assembled [White]
Elm. Camelia String Lights ~ Pole [White]
@Kustom9
Elm. Rosalind Market Cart
Elm. Rosalind Tulip Bouquet
@Bloom
Cube Republic Fuchsia Bush
@Arcade
*HEXtraordinary* Orange Kitten – Wanderer – REZ
@Past Weekend Release at FINCA Mainstore
FINCA – decorative branch (A) maple
FINCA – decorative branch (B) ebony
Other goods:
FINCA – sphere hedge lighted V2
FINCA – bulb hedge lighted V2
10. Elm. Juniper Garden Party "Cupcake Stool"
13. Elm. Juniper Garden Party "Candles Gold"
8. Elm. Juniper Garden Party "Berry Cake"
9. Elm. Juniper Garden Party "Cupcake Tray"
11. Elm. Juniper Garden Party "Lantern"
+Half-Deer+ Cat Lady Garden Chair – Vintage White
Ariskea [Emi] Tulip Blooming [ Pink]
Apple Fall Blossom Wreath
Soul2Soul. Honey Naturals Flower Basket
Cube Republic Blue Gentiana
DRD Gardenhouse flowerpot 5
DRD Gardenhouse flowerpot 1
DRD Gardenhouse flowerpot 2
DRD Gardenhouse flowerpot 3
JIAN Dove :: Wanderer