Day 1,344,445 of discovering my inner inner inventory, where I am finding entire food markets!
I started off this year with a very simple goal: To create scenery and venues that includes at least a part of me, whether its my love for ethnic food, or places I would love to travel to. And its rather obvious that anytime food is involved, the ambiance for me, should have that visceral feeling. More than nostalgia and maybe like a distant goal.
There are home and garden designers in our part of the metaverse whom I think, deserve their share of the limelight. Simple items, a bowl of limes, a plate of koriander, a look alike kewpie mayo bottle.. these small details keep my eyes fixed and my mind and heart traveling to places I cannot physically go to in the real. For now anyway.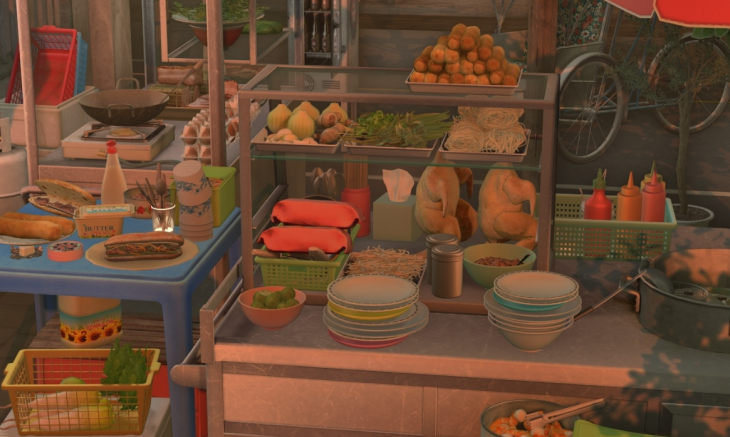 Anywhoser whatsers, I hope you are having a heckuva week and if ever you need a lunch buddy at all, ping me away!
---
PLAAKA PhoStand
PLAAKA PhoCondiments
PLAAKA PhoStandCutlery
PLAAKA PhoStandCutlery
PLAAKA PhoCondiments
PLAAKA PhoGa
PLAAKA SmallLime
PLAAKA HerbBowl
PLAAKA ShokudoTable
PLAAKA LogendCuttingBoard
PLAAKA BanhMi Stand
PLAAKA CutCucumbers
PLAAKA BeanSprouts
PLAAKA MeatBalls
PLAAKA Koriander
PLAAKA CannedMackerel
PLAAKA CheesePacks & CheeseSpread
PLAAKA Quay
PLAAKA  Butter
PLAAKA  Mayonnaise
PLAAKA  LiverPaste on Baguette
PLAAKA LiverPaste
PLAAKA NamasuTupper
PLAAKA OverMediumEgg on Wok
PLAAKA PlasticEggPackage Open
PLAAKA PlasticEggPackage Close
PLAAKA Hams
PLAAKA Cucumbers
PLAAKA Shrimps
PLAAKA Dishes
PLAAKA Dishes&Bowls
PLAAKA SuppliesContainer(Empty)
PLAAKA SuppliesContainer(JapaneseWhiteRadish)
PLAAKA GasBottle
PLAAKA SunDriedKitchenWare
PLAAKA RoadsideTree
PLAAKA XichLo
PLAAKA FoodStand Table
Toro. 24 Hour Vietnamese Restaurant RARE
Toro. Pho Neon Sign
Toro. Monoblock Stool {TANGERINE}
Toro. Monoblock Stool {WHITE}
Toro. Nem Lui
Toro. Bahn Khot
Toro. Crate chair {Red}
Soy + Toro. water bamboo
Soy + Toro. Unplugged Fan
Soy. CSC – Bug killer light copy
Soy. CSC – Poster "put garbage in trashbox"
Soy. Shitamachi Alley Garden – Potted Plant – C
Soy. Shitamachi Alley Garden – Potted Plant – D
Soy. Shitamachi Alley Garden – Potted Plant – G
Soy. Shitamachi Alley Garden – Potted Plant – A
Soy. Shitamachi Alley Garden – Potted Plant – B
[ keke ] beers
Kalopsia – Crate Pile
Dahlia – Bryant – Garbage Pail – FATPACK
The Annex – Tailgate Party – Team Pennant
taikou x momento / you and i backdrop RARE
taikou / utility pole sample C (2 bars) // slanted cables
taikou / utility pole sample (no bars)
D-LAB Beer refrigerator
Sari-Sari – Kitchen Essentials – Menu Board