Alrigghhtt! The day has come, and Food Court is now open for your tastebuds!
Dahlia is featuring an exclusive release for Food Court with an amaaazing Sushi Burger AND Dumplings, both of which dispenses just for you fine connoisseur! (The dumplings dispenses with holdable chopsticks!)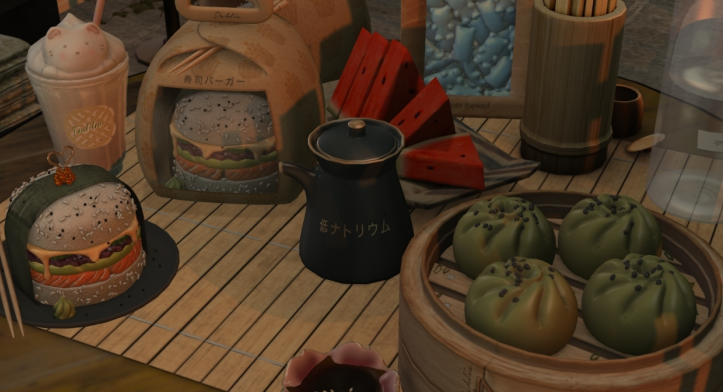 As well as a series of Kitty Drinks in latte, Matcha, & Sakura. The Sushi Burger is available in three options; takeway box, a dispenser tray or personal hold and the dumplings come in either veggie or pork options. Low sodium sauce bottles are featured and sold separately as well!
While I am perusing these with my growing appetite, please scroll through the credits below to see who made it into the scene today. I have been slowly going through my inventory little by little and resurrecting content that I feel is still relevant in world building.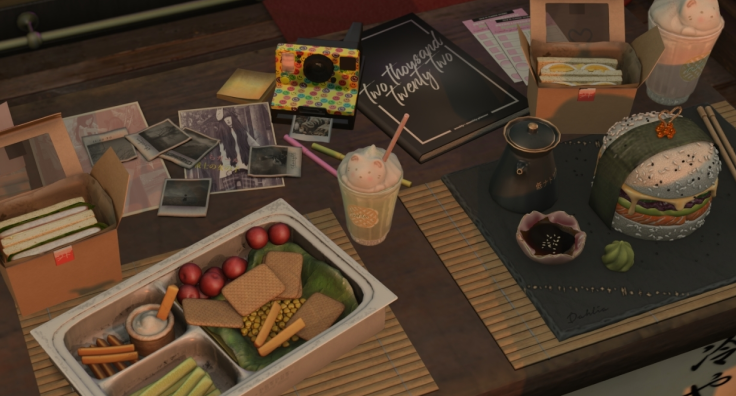 Some of these stores may be obsolete now, but I can help if you need! Thank you for stopping by my smol cafe.. I promise it was a labor of love. 💜💜💜
---
@ Food Court
Dahlia – Kiara – Dumplings – Veggie – Dispenser
Dahlia – Kiara – Soysauce – Rez
Dahlia – Kiara – Sushi Burger – Takeaway Box – Rez
Dahlia – Kiara – Sushi Burger – Extra Rez
Dahlia – Kiara – Kitty Drink – Latte – Rez
Dahlia – Kiara – Sushi Burger – Dispenser Tray
Dahlia – Kiara – Kitty Drink – Sakura – Rez
Dahlia – Kiara – Kitty Drink – Matcha – Rez
Pewpew! Bear Mallows – Blueberry (Decor)
Pewpew! Thought Polas
Pewpew! Receipt & Coins
PLAAKA Wheat EnamelMilkJug
Other Noms-
Dahlia – Bryant – Garbage Pail – FATPACK
Dahlia – Sia – Tall Moss Planter
KraftWork PAZ House . Kitchen Island Stool
PANIQ – 2022 Planner Clutter GROUP GIFT
Harakiri – 'CHEAP POLAROID CAMERA' yellow
[Cat-Noodle] Sloppy Katsu Sando (Decor Version)
[Cat-Noodle] Sloppy Tomago Sando (Decor Version)
220ML – Peace & Sake – Bamboo Mat 2
BJK – Tokyo Gacha – Phone booth
BJK – Tokyo Gacha – Box of cakes 2
Wednesday[+] ~ Mangaka Seikatsu ~ Mangas COMMON
Wednesday[+] ~ Mangaka Seikatsu ~ Treats COMMON
Wednesday[+] ~ Mangaka Seikatsu ~ Lockers COMMON
Wednesday[+] ~ Mangaka Seikatsu ~ Motto COMMON
.random.Matter. – Noticed By Senpai – Otaku Sign [Blue]
[[RH]] Suika (water melon) touch
[[RH]] Hoozuki (A)
[[RH]] Kingyo -aka-(Gold fish / Red)
[[RH]] Kingyo -Tana- (Gold fish in wooden container)
[[RH]]CAFE IN THE PARK -Pole- (Short)
[[RH]] CAFE IN THE PARK -Sweets Case-(Glass)
[[RH]] Cafe in The Park -Music Clock- RARE
[[RH]]CAFE IN THE PARK -Cafe Light (Green)-
[[RH]] CAFE IN THE PARK -Cafe Table-
[[RH]] CAFE IN THE PARK -Chair- (Red)
[[RH]] Goza -Fuji- (Mat Wistaria)
[[RH]] KADOMATU (Dark-L)
–ANHELO-M22FL-16BGA :: railing for street
–ANHELO-G03-09-17AGA :: disposable chops C
–ANHELO-G01B5-168GA :: recycling A
–ANHELO-G01B1-168GA :: beer case C
–ANHELO-G01B5-168GA :: recycling B
–ANHELO-G01R2-168GA :: post
Soy. CSC – Vending machine [Drink] copy
Soy. Oriental Plants [potted fruticosa]
Soy. Oriental Plants [water plants]
Soy. Reed Screen [Sudare] Dark -Rolled
[ keke ] bottle of spring water
[ keke ] tokyo sign . green
[ keke ] tokyo sign . pink
[ keke ] heaven neon sign
[ keke ] rain fall glitter . 1 LI
7 – Cold Drinks Neon
7 – Filmore Tokyo Sign
Ariskea/The Den [Military] Cheer up
Ariskea/The Den [Military] Post office Frame
23 – DRD – AE – Train Car – Newspaper Rack
5 – DRD – AE – Train Car – Bar c/m
[MB] No Ebisu Beer Poster
[MB] Ramen Shop Summer Poster
[Con.] 11.11 Displays – Polaroids
[IK] The Bakery – Exhibitor
[IK] The Bakery – Counter
{yumyum} Vertical Garden (Iron)
b.v Signboard (Ivy)o&g
MINIMAL – Tokyo Store #Signs Version
Trompe Loeil – Shipping Crate Studio Green & wood