The me of yesterday, the me of today, the me of tomorrow… I'm learning how to love myself.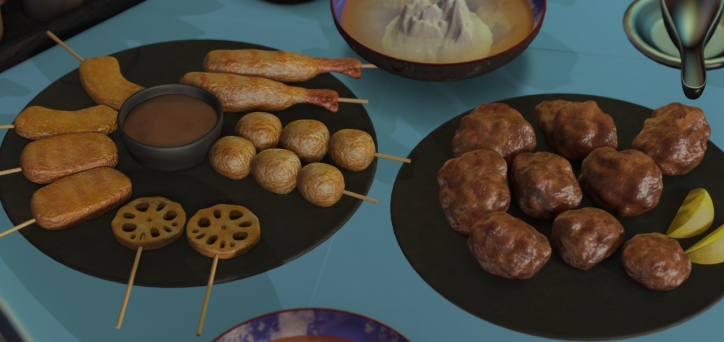 And I am in happy happy land, because more creators are venturing into the food scene! This is at the heart of me…it is something ingrained, the chance to cook and feed my loved ones.
Creatively speaking, my inspiration lately of course has been through music. Actually the order I usually follow is, featured content > background scene or theme > what's the story or message? > maybe lyrics to fit the image…
Or some jumbled mess like that. What about you? Where do you draw your inspiration from?
---
COMING SOON TO TOKYO ZERO 
Jan 10th 8:00 AM SLT ~ Jan 25th 8:00 AM SLT
[Mamere] Japanese fried chicken dispenser
[Mamere] Deep fried skewers dispenser
Other Noms-
–ANHELO-G03-07-17AGA :: inari
–ANHELO-G03-09-17AGA :: disposable chops C
C L A Vv. Hotpot Party – Rice Set
C L A Vv. Hotpot Party – Portable Stove Red
*KWaii*-Ten Tsuyu
*KWaii*syabu-syabunabe
*KWaii* kobachi(PONZU REZ)
*KWaii* kobachiI(GOMA REZ)
*KWaii* nikusara-set
*KWaii* otama
*KWaii* koukyuuonikuset
.random.Matter. – Dorm Life – Soju Bottles
taikou / takoyaki togo box (decor)
taikou / fengzhao (chicken feet)
taikou / takoyaki portable stove
taikou / ichiraku instant ramen (sealed lid w/ chopsticks)
taikou / water boiler
taikou / takoyaki stall
taikou / tako plushie
taikou / takoyaki stall lamp
taikou / payment machine
taikou / old post box (decor)
taikou / money changer machine
taikou / beverage fridge
taikou / round plastic stool stack
taikou / plastic folding table
taikou / round plastic stool
[MB] Ramen shop -Choumiryou- (Spice)
[MB] Ramen Shop -Noodle Basket-
[[RH]] AGEMONO-YA -PIYOKICHI- (baby chikin)
[[RH]]CAFE IN THE PARK -Pole- (long)
[[RH]] -Kuruwa- Decoration -Tama-
[[RH]] -Kuruwa- Decoration -Crane- (Gara)
uK – Tokyo Grill Chopsticks Centerpiece
Toro. Soda Cans in Plastic Bag
Toro. Hibachi grill
BALACLAVA!! Ramen Cup Stack
BALACLAVA!! Express Electric Kettle
Soy. CSC – Old prefabricated snack corner
Soy. CSC – Full of Trash box
Soy. CSC – Vending machine [Yakisoba]
Soy. CSC – Poster "out of order"
Soy. CSC – Vending machine [Udon]
Soy. CSC – Bug killer light
Soy. CSC – Promotional bench
Soy + Toro. Plastic Chair
Soy + Toro. neon sign karaoke