"Let's journey it together with valiant hearts!" – by Quincy Lk.
Deep in the thicket of a far away place
Lies a village, in evergreen's tall embrace.
This hearth, this center, is made for the weary
To lay aside their woes, their cares, their worries.
Fair traveler, you are welcome, to dine in utter peace
Away from the busy-ness of the hustle disease.
Have a warmful sat and pour your glass a full
Share in the feast laid out, leave behind the world's pull.
And remember to savor each moment with thee
You are your best achievement, best success, you are, you'll see!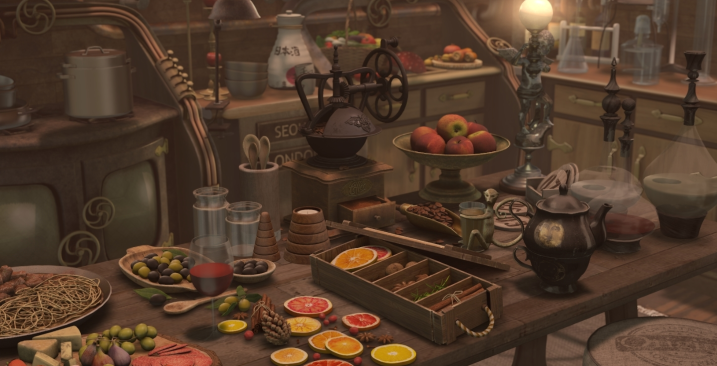 ---
*Steampunk/Industrial themes are one of my favorites! If you have any questions about any of these items, HMU!*

Eclectica Curiosities- Steampunk cooler
Eclectica Curiosities_Steampunk Kitchen Range
Eclectica Curiosities_Steampunk corner counter
Eclectica Curiosities Steampunk Sink
Eclectica Curiosities_Steampunk 2-door counter
Eclectica Curiosities_Steampunk Rangehood-projected light
Eclectica Curiosities Steampunk Water Heater
.:revival:. industrial table
.:revival:. original stool grey
.:revival:. linen lantern I natural
.:revival:. tube lamp
~BAZAR~Berlin-rug
-David Heather-Industrio Shelf/Light
Fancy Decor: Rusty Gear 1
Fancy Decor: Rusty Gear 2
Fancy Decor: Gears Bookend
Fancy Decor: Coasters
* SORGO – Creative Mind / GRIS
* SORGO – Old Books / D
oyasumi / pipe drink holder
oyasumi / industrial wall shelf
*HEXtraordinary* Hand of Glory
*HEXtraordinary* Antique Silver Cherub Lamp
*HEXtraordinary* Amanita Mushroom
Soy. Small Fir tree with Dried Orange
MADRAS Arabica Coffee Beans Gunny Bag
MADRAS Apple Holder Brass
MADRAS Wooden Slice Serve Board
MADRAS Steak Bites and Zoodles Decor
MADRAS Arabica Coffee Grinder
MADRAS Arabica Coffee Bean Spoon
MADRAS Farwell Beer
09 MADRAS Monkey Chai Brass
*KWai*Clear Labo set
[NO CONCEPT] industrial wall lamp(copy)
[NO CONCEPT] industrial pipe rack(copy)
[NO CONCEPT] industrial pendant lamp(copy)
[Tia] Little Herb Hanger
[Tia] Pompeii – Fragrant Hanging Herbs
Soul2Soul. Rustic Chic Kitchen Wine
Soul2Soul. Artisan Kitchen Bowls
Soul2Soul. Rustic Chic Kitchen Pans Stack A
Soul2Soul. Rustic Chic Kitchen Pans Stack B
Soul2Soul. Rustic Chic Kitchen Mugs
Soul2Soul. Rustic Chic Kitchen Plates
Soul2Soul. Artisan Kitchen Glass jar
MH Hazel Tree Candle 1 Open
..::THOR::.. Celestial Teapot
Pitaya – Wood&Glass Wine Collection – Water Jar BLACK
Pitaya – Wood&Glass Wine Collection – Bottle Group BLACK
Old World Set of fruits v2
Old World Bottles
Old World Medieval bowl of apples v2
Old World Olives
Old World Spice set
Old World Mulled wine spice set v1
Old World Rustic basket of veggies v2
[ keke ] bottle of water
[PM]Pixel Mode – Manchester – Wall Pipe
Seven Emporium – Filmore Seoul Sign
Seven Emporium – Filmore London Sign
220ML – Peace & Sake – Empty Sake Cup
220ML – Peace & Sake – Sake Jar
220ML – Peace & Sake – Sake Bottle
220ML – Wine Table Me and You – Grape
220ML – Wine Table Me and You – Salami
220ML – Wine Table Me and You – Strawberry
220ML – Wine Table Me and You – Cheese
meadowWorks Vintage Light ~ Rusted Heart
[ kunst ] – Industrial bench lamp
Hideki – Kitchen Jars