"Even this trial now, is only temporary.."
I am infatuated at the moment with a certain musical group but I won't bore you with the details of this minor obsession! Did I search far and wide for all things purple and violet? YES. Were they difficult to find? A BIT! I guess it isn't a popular color to sell?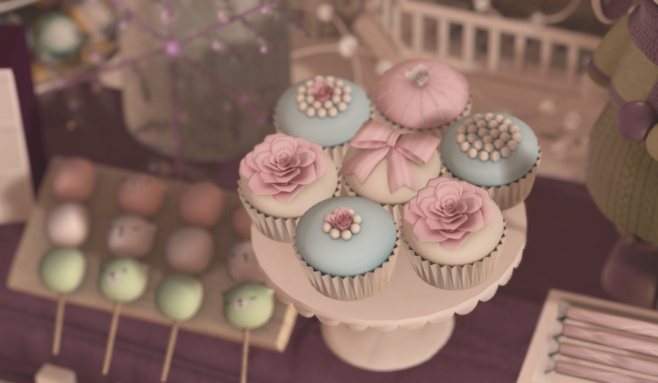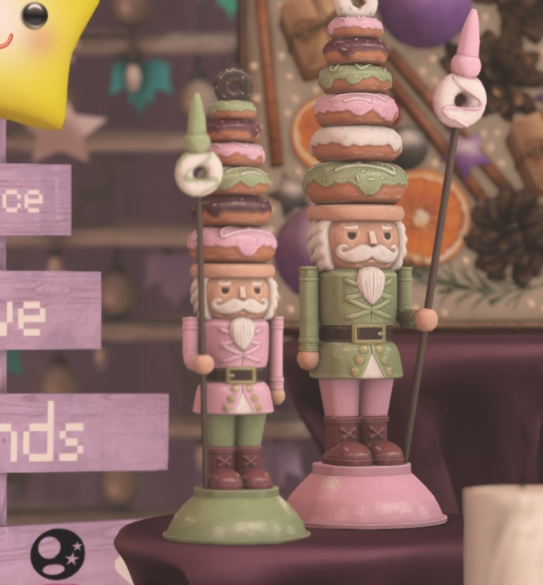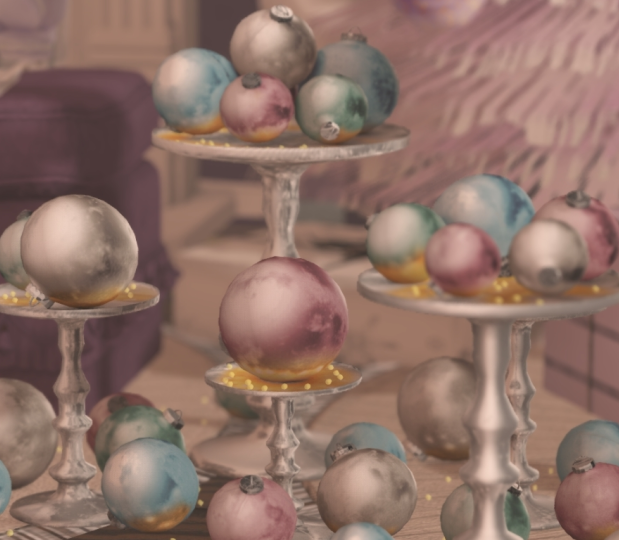 I am mentally preparing myself for another RL surgery, and I need all the love and support I can get. This should be the last procedure before getting approval to get on the transplant list, so cross fingers, legs, eyes and toes!
Thanks for stopping by on your Friday afternooners fellow blog scroller! Here's to a magical weekend! 💜
---
@Epiphany
MADRAS DoNutCracker Green L
MADRAS DoNutCracker Pink R
@Collabor88
Soy. Upholstered Bench
Foxwood – Little Star – Garland white
@SL Holiday Shop Hop 2021
CHEZ MOI X-Mas Lightbox
@SantaInc
Harakiri + Pitaya – Fast Gifts – Cookies Jar (heart)

Coming soon!
Dahlia – Peace – Pine Mercury Vase – Big
Other Goods!
DISORDERLY. / BOTTLED MACAROONS / PURPLE
DISORDERLY. / Boarding Winter / Lighted Leaning / Purple
DISORDERLY. / Holiday Glamour / Ornament Candles / Silver
DISORDERLY. / Holiday Glamour / Ornament Stand / Silver
DISORDERLY. / Holiday Glamour / Short Ornament Dome / Silver
DISORDERLY. / Holiday Glamour / Stacked Ornaments / Silver
DISORDERLY. / MTP / CUPCAKE SINGLE PEARLS
DISORDERLY. / MTP / CUPCAKE ROSE
DISORDERLY. / MTP / CUPCAKE PEARLS
DISORDERLY. / MTP / CUPCAKE DRIZZLE
DISORDERLY. / MTP / CUPCAKE ROSE
DISORDERLY. / MTP / CUPCAKE DOUBLE PEARLS
DISORDERLY. / MTP / CUPCAKE BOW
DISORDERLY. / Alice's Tea Set / Stand / Scalloped
Dahlia – Cassiopeia – Starburst Wallart – Silver
SAYO – Glitz Collection – Round Draped Bar Table
[Kres] Christmas Tree – Winter
{moss&mink} I Purple You
Trompe Loeil – Yasmine Noel Modern Tree 1 Ornamented
piccolo.// holdable dango plate RIGHT
* Let's Celebrate * Purple Decoration 1
Kawaii christmas tree Purple- UwU Kawaii Store
Elm. Whimsy Fireplace [White/Gold]
+Half-Deer+ Bottlebrush Christmas Tree – Pastel
+Half-Deer+ Starry Decoration
+Half-Deer+ Metal Leaf Vines – All – Vertical
The Loft & ARIA – Leona Garland
Apple Fall Ornament: Ribbed Cone – Cherry Glass
Ariskea[Shimmer] Ornament [Violet]
Ariskea[Nutcracker] Nutcraker [Pink]
Kalopsia – Gift Box Square (Silver)
Kalopsia – Gift Box Flat (Silver) 1
Lagom – Paper advent star
Lagom – Wire trees [ Silver ]
Pitaya – Round Rug – Off-white
tarte. taffy – purple